Evoque's data centers have gone through changes before.
Most began at telco AT&T, while others come from SBC Communications, before it was acquired by the telco giant. Then, in 2019, the company offloaded its portfolio of 31 data centers to Brookfield Infrastructure for $1.1 billion.
Those sites were then repurposed for a broader retail data center business. Now they could be set to be converted and modernized yet again.
This feature appeared in the latest issue of the DCD Magazine. Read it for free today.
A new vision
When we spoke to Evoque's then-CEO Andy Stewart in 2020, he was keen to promote two selling points of Evoque - that it wouldn't compete for hyperscalers, and that it had a global presence.
Both of those points no longer hold true. So, to find out more, we headed to the company's data center in Ashburn, Virginia, to see what had changed.
The 164,500 square foot (15,300 sqm) data center is spread across two buildings. The oldest, A, dates back to 2000, while B came online in 2007, '08, and '09.
Built for a single telco, "the first challenge was to make these sites carrier diverse," the company's VP of strategy, Drew Leonard, explained. "I think we have an average of about 12 carriers, and we needed to build a little meet-me area for them to go in."
Another challenge was the UPS systems, which were being upgraded during our visit. "These facilities were overbuilt at the time," Leonard said. "But it's about getting them up to date. As we do the reconfiguration on the UPS we're getting more efficiencies, and we're able to eventually deliver more power whilst also saving tons of room."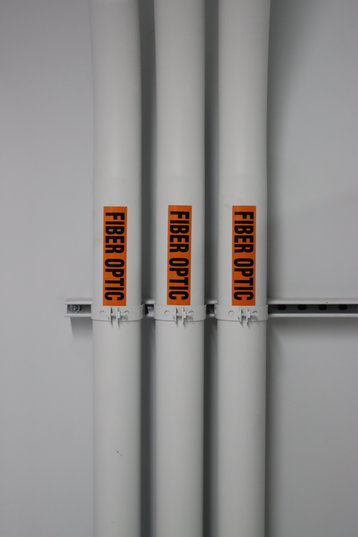 During its modernization of the facility, the company moved from potable water as its primary cooling source to reclaimed water. To do this, it turned a disused storage space into a water treatment room to ensure it doesn't damage pipes. "Don't drink the water," Leonard joked.
The 10MW data center is by no means one of the largest in Loudoun County. Even with potential plans to convert adjacent parking lots into additional footprint, which Leonard - reckons could boost the footprint by some 60 percent - it is still a relatively small presence in the world's data center capital.
"Our model is retail data center space," he said. "So lots of customers with smaller footprints - we're not doing single tenancy. [In the unique market of Virginia], we're really benefiting from the fact that we have available space. If you have space, you win."
But Loudoun does not follow the same laws of reality as elsewhere, and Evoque has begun to broaden its ambitions from solely retail colocation.
Hello hyperscale
"I think you're always gonna have the mid-sized enterprises and large enterprises that are going to need this type of arrangement," Leonard said. "But we understand the importance of the hyperscale business - and we've built a team to do that."
That marks a distinct pivot from the strategy first laid out when the company was formed, but was perhaps a decision signaled back in 2021, when the company acquired cloud services company Foghorn Consulting.
"We knew that customers are migrating to the cloud, and that represents a potential risk to our business of smaller footprints," Leonard said. "But being in the interconnectivity business, we can enable those connections to cloud providers and to local zones, and things like that."
That's the first prong of its cloud strategy. "They work with clients on that transition from data centers," Leonard continued. "They containerize everything and allow customers to put the application where it makes the most sense - whether it's in an Evoque data center, the cloud, or on-prem."
The second prong is to get involved in building those cloud data centers, putting it in competition with Equinix's xScale, Digital Realty, and a host of hyperscale developers.
"We've built a team to go out and do greenfield builds and expand," he said. "That means going into new markets, shoring up the ability to meet demand in existing markets, and being able to help our customers go through that migration from data center to cloud back to data center as well."
That requires "two different paths, one for the retail side, and one for the hyperscale side," with each given enough resources and focus. Evoque will have to carefully balance its desires for expansion without forgetting the needs of its retail business.
"Retail is our core business right now," Leonard contended. "The hyperscale business gives us the opportunity to get into new markets and support it with the retail side as well."
But for all the talk of expansion, it's worth noting that Evoque is no longer the global business its previous CEO was eager to highlight. In 2022, the company quietly removed references to overseas data centers from its website, later confirming to DCD that it was exiting some European data centers on July 31 this year.
"We purchased the portfolio with a global footprint, and what we're doing is optimizing our footprint," Leonard said. "We took the data centers that didn't make sense from a business perspective - they didn't have the ability for us to grow and were not as financially profitable for us - and we exited that market."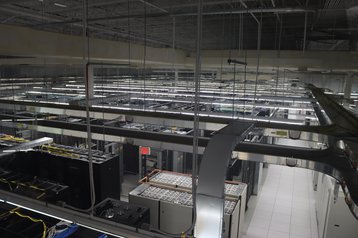 He noted that the company still has one facility in Redditch, UK, and another in Asia. "And then here in the United States, we've gone through a similar exercise of exiting, where they were more like telco PoPs [points of presence] than a data center, so it just didn't make sense for the brand going forward."
At the same time, Leonard contended, "while we sort of stepped back, that allowed us to focus on the facilities that really aligned to where we want to go with the business in the markets where we need to be." That has meant new investments, he said "including just outside of Nashville, Gallatin. That comes with a lot of opportunity for growth there. And then we're also looking at a few other opportunities internationally and domestically, for expansions and new builds."
He added that the Evoque data center in Secaucus is due to expand, alongside discussions for the Virginia facility: "So we've got a good footprint."
With a number of new players entering the space, Leonard pointed to the deep wallet of Evoque's owner, Brookfield. "They're continuing to invest with us, and they don't need to raise money if we want to build a data center," he said. "Having that access to capital is much easier."
He demurred, however, on questions about Brookfield combining Evoque with other data center assets it owns - including Compass and Data4.
In the 2020 chat with Andy Stewart, Brookfield's large investments in renewable energy projects were also noted as a potential synergy point. But the data center company has yet to aggressively pursue a renewable strategy.
Sustainability plans
"We're not doing any PPAs at this point in time," Leonard said. "Everything's just straight off the utility - although in California we use Bloom fuel cell technology, and in Secaucus we have about 750 kilowatts that we're using there from solar."
Another way data center companies can be greener is simply by running hotter. Despite more than a decade of evidence that data centers could be operated at warmer temperatures, much of the industry over-cools. This year Equinix announced that it would begin to run its facilities warmer, but gave no specifics - because it requires the customers in its data centers to buy into the concept.
It's no different at Evoque. "We're trying to keep trying to keep [the data halls] at temperatures that allow our customers to feel comfortable that their equipment's going to be safe," Leonard said. "We are slowly ramping that up, but it's about working with our customers and setting proper expectations as well as educating."
Helping the company's discussions is a partnership with Vigilent, which uses sensors to dynamically match cooling output to heat load. "
You can see temperature sensors on some of the racks," Leonard said, shouting over noisy fans.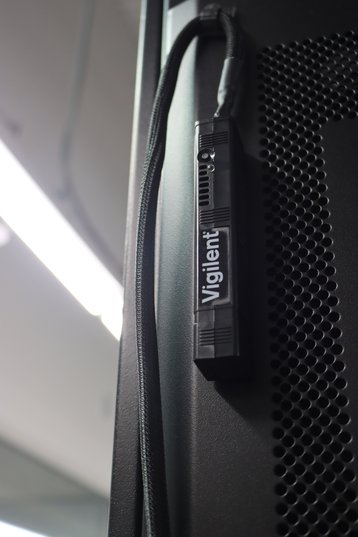 "We put them at the air intake, which gives us a much more accurate temperature reading on what the customers' equipment is experiencing," he added. "All these are tied into controllers, which aggregate all of the temperature information and feed it into the Vigilent AI system, which then turns on/off or changes the fan speeds based on the temperature."
The system learns the facility's quirks, and can realize that "if that rack over there is showing higher temperatures it may make sense to turn on the CRAC unit way over in the corner, because it's learned that that'll impact the airflow there better," Leonard claimed.
As we visited, the Vigilent rollout across all of Evoque's facilities was just finishing, but "what we've seen is that we're running much fewer of the units on the floor all the time, sometimes by as much as two-thirds in some data centers.
"And, with the variable fan speeds, we can then modulate the speeds as opposed to turning on units at 100 percent. The overall savings that we're getting from the power reduction have been very good so far."
Those efficiency improvements, the company hopes, will be able to breathe yet more life into the facilities.
"We think that they're going to be around for a while," Leonard said, affectionately touching the wall. "That's why we're making the changes."