Technology firms overwhelming backed Hillary Clinton for president, and may pay dearly for their decision. Virtually every major tech company has seen its share price fall heavily on the news.
Not only will cloud companies potentially struggle in their plans to roll out across Asia if a trade war ensues, but various other policy decisions could hamper business. With tech companies leading the roll out of IoT, self driving cars and more, their success directly impacts that of the data center industry.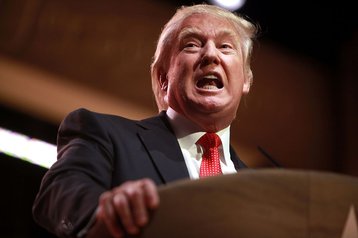 Skills crisis
Trump has had an overtly anti-illegal immigration stance, but has offered various disparate views on other forms of immigration. Trump has said both that he will and will not restrict the H-1B visas that Silicon Valley uses to hire the best programmers and computer engineers it can from around the world. Should he do so, this could impede US tech companies' innovation, while bolstering that of those abroad.
Of course, even if H-1B visas are not banned, it is possible that a Trump presidency will, by its nature, discourage potential immigrants from choosing the US. "Maybe the next Sergey Brin won't come here," Pulitzer Prize winning author Thomas Friedman said on Real Time with Bill Maher.
The National Foundation for American Policy pegs the number of US technology startups founded by immigrants at over 50 percent, while Rob Atkinson, president of tech policy thinktank Information Technology and Innovation Foundation told The Verge: "A company like Oracle or some of the enterprise software companies, you could see them potentially losing global market share because of this."
The end of net neutrality?
Atkinson told Scientific American: "After he appoints a new Federal Communications Commission (FCC) chairman, the first thing on the docket will be to repeal FCC Chairman Tom Wheeler's Open Internet Order, also known as Net neutrality. The second will be to repeal Wheeler's Internet Service Provider privacy rules, which limit how ISPs can use and sell customer data. I don't think the new administration will feel a sense of urgency beyond that, because tech is not going to be a top priority."
We have to see Bill Gates and a lot of different people that really understand what's happening. We have to talk to them about, maybe in certain areas, closing that Internet up in some ways. Somebody will say, 'Oh freedom of speech, freedom of speech.' These are foolish people. 

Donald Trump
We're losing a lot of people because of the Internet. We have to see Bill Gates and a lot of different people that really understand what's happening.
"We have to talk to them about, maybe in certain areas, closing that Internet up in some ways. Somebody will say, 'Oh freedom of speech, freedom of speech.' These are foolish people. 
Jeff Eisenach has been leading the Trump campaign in telecoms and tech issues, and is seen as the most likely new FCC chair. In a 2015 paper by Eisenach on the topic of Zero Rating - that is, allowing mobile operators and ISPs to not charge for data usage from specific sources - he said that "concerns about Zero Rating are misplaced." Concerns mainly focus on whether allowing unlimited data on individual services is uncompetitive and monopolistic.
The paper was sponsored by internet.org, Facebook's controversial Internet initiative that includes the Free Basics program.
The end of an open Internet?
As we discussed when Trump unsuccessfully campaigned to end the transition of ICANN out of US control, he has talked about censoring or closing the Internet due to ISIS.
How far Trump is willing to go is yet to be seen, and, equally how far tech companies are willing to go is up for debate. Major tech firms suffered heavily domestically and abroad on news of their suspected collusion with the NSA and, given the way the tech industry views Trump, similar collaboration may prove even less palatable. 
Some have called for tech companies to double down on measures that make it harder for governments to gain access to their data.
The end of influence?
Some tech companies have enjoyed a more-than-cordial relationship with the upper echelons of the US government, something that could be set to come to an abrupt end.
Google in particular has shared a revolving door with the White House as employees from each group have switched places. Eric Schmidt, once CEO of Google and now Chairman of Alphabet, campaigned with Obama and was an informal policy adviser to the President. Schmidt was a member of President Obama's transition advisory board and is a member of the United States President's Council of Advisors on Science and Technology.
Schmidt threw his weight behind Clinton, going as far as to fund 'The Groundwork,' a data analytics and digital outreach initiative that - along with ex-Google employees - aimed to help the Clinton campaign. Leaked Podesta emails revealed that Google donated one of its planes to the Clintons on more than one occasion.
Trump, who in September declared that the "Google search engine was suppressing the bad news about Hillary Clinton," is unlikely to offer the same level of access to Google as did the Obama administration.
Equally Amazon, who operate AWS, the world's largest cloud company, have reason to be nervous. CEO Jeff Bezos is also the owner of The Washington Post, which proved particularly troublesome to the Trump campaign with its reports on what he had done and said.
In December 2015, Trump tweeted: "The @washingtonpost, which loses a fortune, is owned by @JeffBezos for purposes of keeping taxes down at his no profit company, @amazon."
Adding: "If @Amazon ever had to pay fair taxes, its stock would crash and it would crumble like a paper bag. The @WashingtonPost scam is saving it!"
This is not believed to be true.
Trump has also said of Bezos: "He's got a huge antitrust problem because he's controlling so much, Amazon is controlling so much of what they are doing."
Bezos, presuming Trump would not win, previously joked about sending Trump into outer space using his Blue Origin rockets.
Since then, with Trump now President-Elect and Amazon shares falling rapidly, Bezos has tweeted: "Congratulations to @realDonaldTrump. I for one give him my most open mind and wish him great success in his service to the country."
Amazon provides cloud services for the US government, including for the CIA. Both Bezos and Schmidt serve on the Pentagon's Defense Innovation Advisory Board.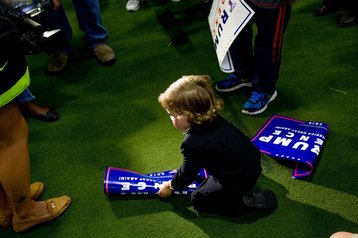 A change of guard
Perhaps some with an eye to technology and its place in the world with have the ear of Donald Trump, among them Peter Thiel.
Thiel, who co-founded PayPal and was an early Facebook investor, is president of global macro hedge fund Clarium Capital, is a managing partner of the venture capital fund Founders Fund, and co-founder and chairman of controversial big-data-for-government company Palantir.
An early backer of Trump, who spoke at the Republican National Convention, and donated to Trump's campaign despite consternation in Silicon Valley, Thiel will be a member of Donald Trump's transition team. Considering the fact that Trump has no previous governmental experience, it is possible that those close to him will have an outsized influence on the president compared to previous administrations.
With Palantir having worked closely with US domestic spy agencies, this could help shape policy decision on backdoors, privacy and surveillance. Thiel said in 2009 that: "Most importantly, I no longer believe that freedom and democracy are compatible."
His comments at the RNC may also shed some light on a desire to modernize the state. He said: "It's hard to remember this, but our government was once high tech, too. When I moved to Cleveland, defense research was laying the foundations for the Internet. The Apollo program was just about to put a man on the moon–and it was Neil Armstrong, from right here in Ohio. The future felt limitless.
"But today our government is broken. Our nuclear bases still use floppy disks. Our newest fighter jets can't even fly in the rain. And it would be kind to say the government's software works poorly, because much of the time it doesn't even work at all.
"We don't accept such incompetence in Silicon Valley, and we must not accept it from our government."
Beyond Trump
While connections in Washington have certainly been important to the tech industry, allowing it to not just wield influence over policy decisions and regulations, but also take part in government/business trips to developing nations, what happens in the White House is not the be all and end all.
For big businesses trying to build large data centers in small towns, they employ lobbyists in those regions to turn things their way.
For example, when deciding whether to build a data center in either New Mexico or Utah, Facebook hired lobbyists to pass a bill in Utah for large incentives on data centers totaling more than 150,000 square feet. The bill was sponsored by Republican Senator Curt Bramble, who kept his seat after the 2016 election.
This activity is not expected to change in a Trump administration.
Read the rest of our Trump analysis here: