What is a hyperscale data center? The clue is in the name: hyperscale data centers are massive facilities built by companies with vast data processing and storage needs. These firms may derive their income directly from the applications or websites the equipment supports, or sell technology management services to third parties.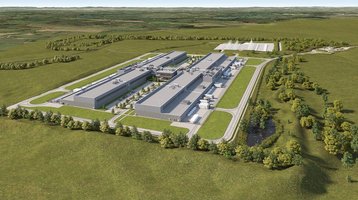 If you're unsure what a data center is, read this, and then read on
Born to meet increased demand for cloud services - as fewer and fewer companies run their own IT systems, preferring to manage them remotely or outsource operations entirely - and responding to the growth of Internet companies, 5G, AI and Internet-of-Things (IoT) deployments, hyperscale facilities are central sites that power many of the world's digital systems.
One of the defining characteristics of a hyperscale data center is the ability to scale up to meet rapidly growing demands, typically multiple MW a year. Because its design is defined by the need for rapid deployment, everything from servers, storage, rack enclosures, power, and cooling systems are usually standardized to streamline installation, increase efficiency and reduce costs.
Who do the hyperscale data centers belong to?
The hyperscale market's massive capital requirements dictate that there are only a handful of hyperscale data center operators, namely Amazon, Facebook/Meta, Apple, Google, IBM, and Microsoft. In addition, there are the wholesale colocation and data center development companies that cater to them, like Equinix and Digital Realty.
Thus, companies with hyperscale requirements either build their own facilities or lease infrastructure from those specialist providers. However, even when they lease the facilities, hyperscale customers usually own and operate their own networking equipment.
Many hyperscale facilities are single-tenant, running a single application across an entire site. Others are multi-tenant. This proportion of the market is growing, because leasing out space from hyperscalers or relying on cloud infrastructure are seen as faster, more convenient options, allowing better access to prime markets.
How much is the hyperscale data center market worth?
While much fewer in number than the total count of data centers, the hyperscale market is worth significantly more in the share of data it processes and thus in its contribution to the data center market as a whole.
According to Cisco, despite representing less than 10 percent of the market, more than half of all data processed in 2020 passed through a hyperscale facility.
According to Arizton Advisory and Intelligence, the US hyperscale market alone was valued at $51.5 billion in 2021, and is expected to be worth $63 billion by 2027.
Where are the hyperscale data centers?
As latency is of increasing concern for hyperscale customers, developments and investment are often concentrated in central locations - known as Tier 1 markets.
In the US, Tier 1 markets include Northern Virginia; Silicon Valley; Dallas; Chicago; Phoenix; New York and Atlanta. In EMEA, you have what is known as the FLAP markets - Frankfurt, London, Amsterdam and Paris - as well as Dublin and Madrid. APAC's Tier 1 markets include Greater Tokyo, Singapore, Sydney and Hong Kong.
However, if they can achieve strong connectivity, hyperscale companies can choose to locate in rural areas, wherever the most reliable energy supply and affordable land are.
In the EMEA region, this tends to be the Nordics and Ireland, and in North America, regions like Oregon and Ohio.
Hyperscale data center operators usually have multiple availability zones - each comprising multiple data centers - spanning several states, countries or regions, connected via private networks.
For example, Google has a total of 33 'cloud regions' worldwide, including 10 in the US and nine in Europe.
How big is a hyperscale data center?
The consensus is that any data center containing 5,000 servers, spanning a minimum of 10,000 square feet (930 square meters) and offering at least 40MW of capacity counts as a hyperscale facility (anything smaller is considered to be an enterprise data center), but they tend to be much bigger.
Apple's $2bn Mesa data center in Arizona, for instance, spans 1.3 million square feet (120,773 sq m). Google's Council Bluffs data center covers more than two million square feet (185,806 sq m) and has a power capacity above the 100MW mark.
What makes the inside of a hyperscale data center different to other data centers?
Because they are so large, hyperscale data centers are designed differently to other data centers, not just to facilitate easy, rapid deployment, but to reduce energy consumption, water use, and to minimize the risk of outages.
Thus, companies in this space often develop their own hardware, as well as power, cooling and security systems - which eventually make their way into enterprise facilities, too.
Hardware
Open source hardware groups like the Open Compute Project (OCP, spearheaded by Facebook) have led to new rack designs offering massive improvements in power density compared to proprietary models.
The model has led to the development of more modular, secure servers, and even pioneered standardized hardware which can be used alongside liquid-cooling systems - to the benefit of hyperscale operators.
Software
In hyperscale data centers, servers, storage and networking equipment are virtualized to balance workloads across multiple servers and automate some operations.
This ensures greater availability, redundancy and security, keeping costs down by way of flexibility when it comes to usage, and allowing for more convenient infrastructure management.
Power: How much energy do hyperscale data centers use?
Exterior pressure on the data center industry to reduce its carbon footprint, as well as the cost of powering such massive facilities have led operators to seek cheaper, more efficient means of doing so, and to build in areas where renewable power is cheap.
The industry's footprint is still huge - contributing massively to countries' carbon emissions - so hyperscale companies go to great lengths to be able to profess carbon neutrality.
This is rarely done through direct provision from the local grid, meaning that while they contribute to there being more renewable energy in circulation, their consumption of fossil fuels remains massive, and they are not necessarily helping to reduce global greenhouse gas emissions.
Companies choose to offset their emissions with renewable energy certificates (RECs), buying an agreed upon capacity on a one-off basis, or, more often, through power purchasing agreements (PPAs) contracts signed with utilities to fund new renewable energy projects in exchange for long-term provision.
But as stated above, recent reports have found that companies like Amazon, Microsoft, Meta and Google still fall short of meeting their net-zero goals/claims, either by attempting to offset their emissions with nature-based solutions, or by ignoring the impact of their supply chains.
This is despite having some of the largest PPA portfolios in the world (as of January 2022, Amazon's PPA portfolio represented 13.9GW of deals, making it the 12th largest portfolio in the world, ahead of EDF), including the major generating companies the contracts were originally thought up for.
At least in Europe, the industry appears set to turn a corner, after Europe's Climate Neutral Data Centre Pact was proposed last year. Representing 90 percent of Europe's cloud and data center industry, the consortium set out a list of ideas for the data center sector to play its part in meeting the EU's goal of becoming a carbon-neutral continent by 2050, by reducing the sector's footprint to net zero by 2030. The idea is to self-regulate, holding the sector to higher standards, and avoiding top-down regulations.
Cooling
Given the increased power density of hardware in these facilities, and operators' ability to balance workloads in a way that prevents overheating, standard air cooling systems, hot/cold aisle configurations and raised floors are used less and less in hyperscale data centers in favor of fan walls and even liquid cooling systems in a bid to reduce overall water usage and improve energy effciency.
In the Nordics (and more recently, Dublin) hyperscalers have been known to offload heat to district systems, killing two birds with one stone by helping them to decarbonize their public infrastructure. Microsoft recently embarked on such a project in Helsinki, and is expected to provide a significant proportion of the city's heat by the late 2020s.
Hyperscale vs. Edge
Edge network infrastructure - compute located at the Edge of the network to reduce latency for applications like IoT and AI - is expected to grow significantly (at variable speeds and scale depending on who is talking) in the near future, and while the question of whether this will affect hyperscale investment is a popular one among pundits, it is likely that the expansion of Edge deployments will occur in conjunction with hyperscale, meeting demand more deliberately where it is needed.