Building at Scale | Asia Pacific
Watch this broadcast
The Data Center Construction Channel
Tech showcase: Innovations in data center power management & construction
This session took place on April 12, 2023
Please complete the following form to access the full presentation.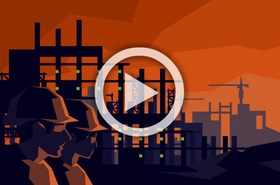 Tech showcase: Innovations in data center power management & construction
This episode will stream live at 2:00pm SGT
Vertiv™ Powerbar iMPB: Simplified Overhead Power Distribution for Data Centers
This substantial presentation provides relevant information about Powerbar iMPB, an innovative solution that completes Vertiv's portfolio of critical digital infrastructure, strengthening the company's position in the growing power distribution market.
Vertiv Powerbar iMPB is built and configured just above the racks with modular components such as a power feed box, a joint pack, a busway track, and a tap-off box. With a range of 160A - 1000A, it offers optimal flexibility for dynamic data center environments, and it allows businesses to optimize and adapt in a cost-efficient and timely manner.
Engineering the future - The cutting-edge AR technology delivering 9X ROI in construction
The Atom™ is the world's most accurate Engineering Grade Augmented Reality™ headset. Specifically built for the construction industry, the engineering grade tool brings together a construction safety hardhat, augmented reality displays and in-built computing power. By positioning holograms of BIM models onsite to millimeter accuracy, this cutting-edge tool makes the entire construction journey safer, smarter and more efficient.
The Atom's patented technology taps into the site coordinate system to enable 3-5 millimeter accuracy onsite, allowing construction works to be carried out to the highest degree of accuracy. XYZ offer a fully managed service, along with the hardhat and XYZ proprietary cloud platform, a fully qualified XYZ Field Application Engineer joins the construction teams onsite to deploy the Atom and deliver the most up-to-date data and projects insights. Deployed on over $8.6 billion worth of projects, with over 7,500 hours in the field, the Atom has conducted over 10,000 inspections and saved construction teams and asset owners over $20 million to date.
Brought to You by