Building the Edge
Stream on-demand
The hit series on edge infrastructure innovation & deployment
What does the Edge have in store? Solving the challenges of Edge storage infrastructure
This session took place on April 15, 2021
Please complete the following form to access the full presentation.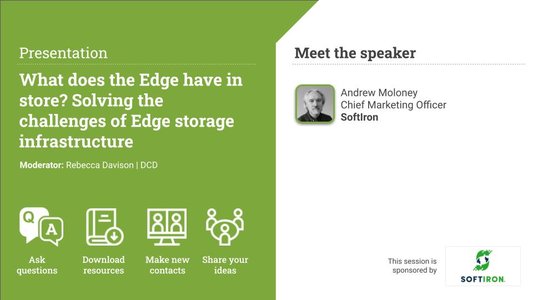 What does the Edge have in store? Solving the challenges of Edge storage infrastructure
With Edge infrastructure due to explode over the next few years, the building blocks we use to deliver that capability - compute, network and storage - will almost certainly have to adapt and change. In his presentation Andrew Moloney will consider the likely implications and challenges when it comes to network storage at the edge and how we might seek to address them.
Is storage at the Edge the same as at the core? What unique challenges might it present? What is its likely relationship (if any) with what is deployed in the core and how will storage at the edge be impacted by its relationship with network and compute elements? Do we need to think about a whole new paradigm and how should we plan for future growth? Using real examples from recent deployments Andrew will illustrate how early innovators in this space are already rising to the challenge.
Speakers
Brought to You by