Grid Scale
Stream on-demand
The new series on energy system integration for data centers
Major keynote: Understanding the global energy trilemma
—
With the pressure on for the world at large to find an adequate replacement for an energy sector dominated by big oil, large purchasers of power at gridscale will need to balance the demand for clean energy with controllable power costs and continuous supply. The World Energy Trilemma Index, prepared by the World Energy Council, ranks energy performance of countries on their ability to provide sustainable energy through three dimensions; energy security, energy equity and environmental sustainability. As such, the data center's host country will shape the corporate will, balance sheet and technological response from the data center owner-operator.
This keynote will highlight the wider role the data center can play in re-engineering its relationship with power to build a sustainable route to continuous supply.
This session took place on April 28, 2021
Please complete the following form to receive a link to the full presentation.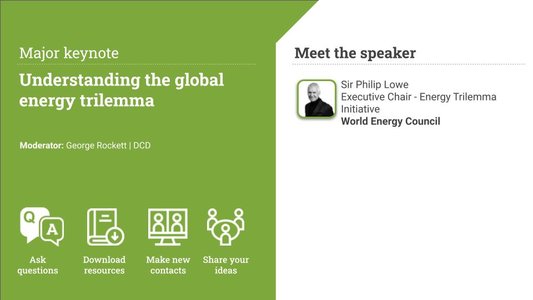 Major keynote: Understanding the global energy trilemma