Grid Scale
Stream on-demand
The new series on energy system integration for data centers
Case study: Australian VPP project; why build a power plant when you can virtualize one
This session took place on April 29, 2021
Please complete the following form to access the full presentation.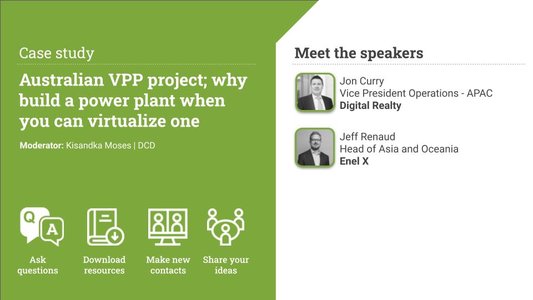 Case study: Australian VPP project; why build a power plant when you can virtualize one
With increasingly frequent incidents of electricity demand exceeding supply placing grid infrastructure under strain in Australia, temporarily reducing energy demand is key to avoiding the shortages which can cause unexpected blackouts. With Digital Realty enrolling two of its data centers in Enel X's Virtual Power Plant, the mammoth data houses are available to switch over to their UPS and backup generation, reducing grid strain to improve grid resilience and reliability.
Winner of the Mission Critical Tech Innovation Award at the 2020 DCD>Awards, Enel X and Digital Realty will join forces to demonstrate the possibilities of a collaborative effort to enact demand response.