Rightsizing and resilience through modularity – the next generation of modular UPS to solve the capacity challenge
This session took place on November 22, 2019
Please complete the following form to access the full presentation.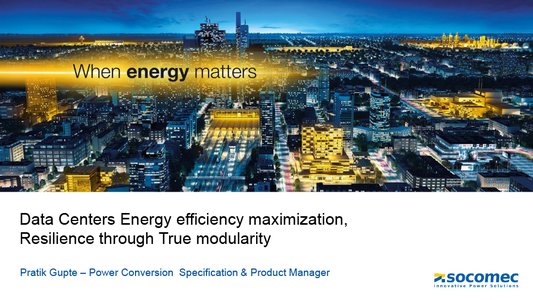 Rightsizing and resilience through modularity
With the increasing digitalization of industry – combined with the rapid expansion of the data center market – first generation power infrastructure designs are falling short of current needs and are not flexible enough to meet future demands as they evolve. With changing data center deployment and capacity models – radically in the case of 5G and IoT technology growth – but also the evolution of the market in the face of power shortages, regulation, economic and political uncertainty, a flexible and truly modular approach to power is now more important than ever. This session will examine how today infrastructures supporting critical applications needs to be flexible, scalable and designed for rapid deployment or upgrades – all whilst maintaining system availability. Hear how the flexibility of a modular architecture can enable an organization to adapt rapidly to ever changing requirements and improve resilience.
Speakers
Brought to You by