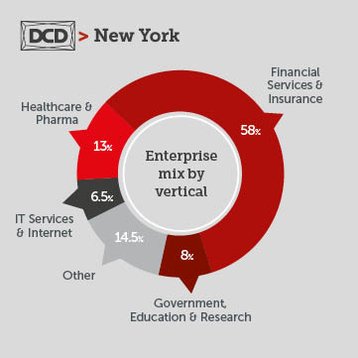 Registration data gathered from more than 1,000 pre-qualified buyers of data center products and services in advance of DCD>New York conference on 9th/10th April is pointing to the fact that 2019 will be an important year for infrastructure upgrading and data center retrofits.
Overall sixty-one percent of enterprise operators indicate that they are planning modernization projects over the coming 12 months, most notably within the financial services and healthcare sectors. Sixty percent of the audience still retain more than half of their data center portfolio on-premise.
"Making existing data centers are fit for purpose looks like a high priority as organizations move to hybrid IT architectures and contend with both shrinking budgets and higher capacity demands," says George Rockett, CEO DatacenterDynamics. "This is what's happening in other more mature data center markets. We saw similar indications at DCD>London late last year, which is why we're developing more content to address this."
The data collected also indicates that almost half of enterprise operators attending have projects focused on DCIM and other infrastructure monitoring and management tools in the coming 12 months. Projects involving emerging technology areas are on the rise with AI/ML (28.4 percent), Hybrid IT (26.6 percent) and Edge (31.6 percent).