Canada can take a leading role in the technologies transforming society, according to the Canadian government's chief technology officer (CTO). The country has leading experts in fields such as AI, but it needs to get on top of business issues, he told the DCD>Canada conference in Toronto today.
Government services can struggle to adapt to new technologies, but the issue is one of processes rather than technology, said Marc Brouillard, Canada's CTO. Representatives from Microsoft, Google, Equinix, CenturyLink and Deloitte agreed that Canada has strong potential to benefit from disruptive technologies.
It's not about the tech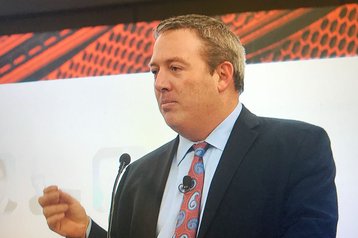 "There's no such thing as a technology problem," Brouillard said. "There are lots of technology issues, but they are not the real problems. The problems we are trying to solve are business problems. Digital transformation is about solving these problems."
For example, the government's contribution to digital transformation should help citizens in practical tasks like getting a passport more quickly, or updating their address for all government services at once.
And any failure to deliver this will be criticized by citizens: "Governments are measured against companies like Google and Amazon - and it's a very high bar."
In the private sector, Canada's companies also have to raise their game, said Terry Stuart of Deloitte: "It's been said that if we don't change the productivity and innovation agenda, the next generation will have a worse quality of life. Only three percent of our companies export (and those that do live 16 years longer). and Canadian organizations invest less per capita than their US and European colleagues."
Canada could get ahead by embracing diversity, and benefiting from the expertise of women that currently feel excluded by tech, suggested Kevin Peesker of Microsoft.
The country has a government with good ideas, and should overcome its Canadian diffidence and get the word out on the international stage, the panel agreed.