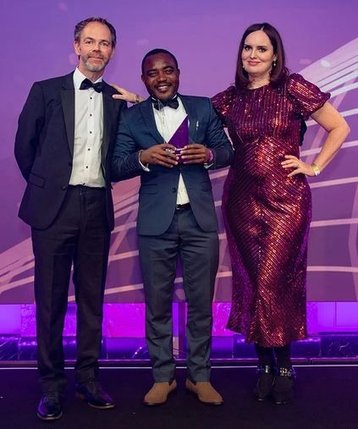 Rack Centre, a carrier neutral data center has won The Operations Team of the Year Award at the DCD 2019 awards ceremony recently held in London. Sponsored by DCPro, the Operations Team of the Year category celebrates innovative approaches to operational, team-based approaches to data center management that goes beyond day-to-day operations.
The Rack Centre operations team was set up to design and run an operation that would guarantee the successful startup of Nigeria's first carrier neutral Tier III collocation data centre. The team of 100 percent local talent was built around five key integrated capabilities: strategy, operations, delivery, projects and governance.
Despite a challenging operational terrain, characterized by lack of reliable grid power and limited access to skills, the team continued to achieve outstanding results related to the set objectives. The success of the team led to multiple achievements including 100 percent service uptime, never previously achieved in Nigeria and a 95 percent customer satisfaction success rate.
Team Purpose
The enhancement of power infrastructure was initiated to enforce the resilience of the assets, guaranteeing timely recovery from disruptive incidents and ensuring more agile systems were put in place. The extremely complex project had multiple critical paths and sub projects, which meant a team that could deal with complex delivery, including design and components was required.
The team consisted of five unit heads, working on the project and led by a project sponsor to deliver on time, in budget and in scope. The human capital requirements demonstrated a key need for critical infrastructure understanding, specifically in unplanned incidents that endanger critical operations. Regular training and knowledge transfer was essential in order to ensure the Rack Centre operations team had the necessary skills and practical know-how to monitor, manage and maintain the data center infrastructure in the case of emergencies or disaster.
In conjunction with regular training processes, awareness sessions were utilized by Rack Centre to boost preparedness of all non-operational staff, but also the operations team. These sessions served as a constant reminder of responsibilities, culture and goals of Rack Centre as an organization. Designed around case studies and educational content, this was a practical way to ensure all staff were prepared for all possible eventualities.
Proof of Achievement
In Q1 of 2018, Rack Centre initiated a six month project of procuring, deploying and commissioning a 2MVA generator with the aim of enhancing the power infrastructure resilience. The aim to optimize the power infrastructure and include additional layers of resilience would serve as compensation control in unforeseen circumstances, or crises. The execution of the three phase project focusing on civil, mechanical and electrical scopes was key in ensuring project success.
The critical aspects of the project were analyzed, and a full scope of understanding, misalignment between design and implementation, poor change management and lack of thorough commissioning were planned for.
The project was successfully executed following strict compliance to agreed statement of work and HSE codes, leading to seamless completion of all three phases with no impact to service availability. Rack Centre's Operations Team was innovative in it's approach, and successfully embedded world class operational capabilities despite a challenging environment. With 100 percent uptime since launch, with a 1.4 PUE in a 900F, 90 percent humidity climate, Rack Centre has set a new standard for quality and excellence in the continent.
Who were the other finalists?
More from DCD>Awards 2019