Constructing a hyperscale data center is no mean feat, and for NTT, it is a matter of simultaneously constructing several hyperscale facilities.
With the company currently working on seven buildings in Phoenix, Arizona, three buildings in Chicago, Illinois, two campuses in Virginia, and another two in Texas, NTT is managing a complex web of projects.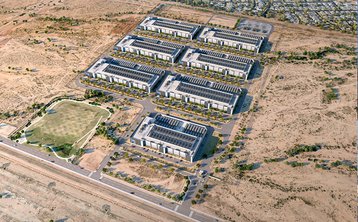 More to the point, all of these data centers are pre-leased, meaning that the pressure is well and truly on.
At our recent DCD>Connect New York event, we talked with NTT's senior director of construction, Jared Wride, and the senior vice president of design construction supply chain, Brittany Miller, about how they are successfully managing all the projects at once, and the importance of having a strong team behind them.
When Miller first joined NTT, they were in the process of transitioning from self-performing construction to outsourcing.
"The scale was maybe two buildings at a time, but we had a roadmap that was going to quadruple that, so we knew that we had to do something different," explained Miller.
"So what we really focused on was bringing expertise in-house, and also partnering with the right supply chain to prepare us for the scale that we're experiencing right now. One of the other key things we did was ensure Phoenix was our new standard product. So the idea is, in North America, if you go to any of our data centers, they all look like you're walking into the Phoenix data center."
According to Miller, standardization has been a key part of making mass construction a possibility for NTT. Everyone working on a project, every partner, and every customer knows exactly where that project is headed, and where NTT expects to be in five years' time.
But it isn't just about standardizing the product, it is also about the team behind the project.
NTT was the winner of DCD's construction team of the year award in 2022, and given what they have achieved, it is no surprise.
According to Wride, a big part of this was hiring the best people for the job.
"We focused a lot on our leadership and bringing the right people to the table in-house. We were also selective in hiring our staff and finding the people with the right fit that want to be part of the culture we're building here at NTT," said Wride.
Beyond this, NTT worked hard to bring in a diverse workforce in terms of skill sets and knowledge.
"We brought in adjacent industries like semiconductor, oil and gas, folks that had hospital experience, we brought in some supply chain people that had never worked in tech before, that really understood the supply chain and logistics, because that was one of our key focuses," explained Miller.
"We brought in all this diversity and then we did mentoring and set up buddy programs, and ensured that they all understood their role. We also sent everybody to the sites to learn what the teams were doing."
Once you have the skills in place, responsibility turns to the leadership team to make sure that these individuals can all work together in one cohesive system. For NTT, that could be embracing remote working, or it could be bringing the team together on-site.
Regardless of how NTT approaches it, one thing is clear: it is working. With construction projects in the double figures currently on the go across North America, NTT is demonstrating every day what an award-winning construction team looks like.
Find out more about how NTT is approaching its projects by watching the DCD>Talk here
More from NTT Global Data Centers