One of the great things about working at Equinix is the enormous variety of backgrounds – educationally, professionally and personally – that we discover in our colleagues.
But sometimes we also find that we have things in common including, among the authors, a childhood hobby for LEGO® bricks. And we're not alone in that fascination. For thousands of years, humans have used the brick as a fundamental building block for their civilizations, such as the ancient Egyptians who used bricks to great effect in developing such wonders as the Great Pyramids.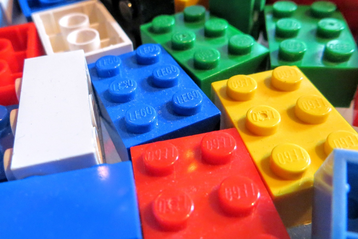 Today, Equinix is applying that same principle of modularity to build composable, brick-based data centers. We are using fundamental brick concepts to construct the physical structure of our data centers – inside and out – to support globally deployable, highly efficient compute and storage infrastructure for Equinix Metal™, and to service the growing global reach that our colocation customers demand.
We are using the scale and investment capability of Equinix to create both proprietary technologies, as well as furthering open source, community-driven technologies via our leadership role in the Open19 Foundation. Part of the Linux Foundation2, Open19 fosters a community around open rack level hardware standards (the smallest atomic unit of which is a server brick) that bolts-into standard 19-inch racks and provides a cable-free installation and maintenance experience and substantive sustainability advantages.
Traditionally, data centers are built to serve a specific use case and a specific location. These bespoke data centers require advance planning, and they take time and a lot of money to build. Our brick-based approach strips away complexity by using four highly standardized pre-built bricks that are assembled to support particular use cases or locations.
1. The most common brick in the Equinix building set is our base data hall brick. These bricks form the majority of the white space, and host critical platforms such as cooling, fire detection and suppression, as well as power distribution.
2. Power bricks enable us to flexibly de-couple generation from stabilization, resilience and supplying the data center. Our power bricks are the basis for a generation of Equinix data centers powered from low or no carbon energy sources and support a deep level of integration between data center and grid – this is fundamental for participating in demand-response, peak shaving and, ultimately, supporting a grid powered by intermittent renewables.

3. Length and width extension bricks are the final pieces of the puzzle and can be deployed together or individually. We can use multiples of each to significantly increase the size of the white space.

The use of a modular, brick-based design to building data centers promises to radically improve construction efficiency, reduce hosting costs, increase deployment speeds and support our sustainability goals – including our commitment to science based targets, the basis of our sustainability efforts. Pre-built bricks are ready to go when a project is started and there are fewer wasted materials, less wasted power and better utilized space. Most importantly, innovation can happen much faster and we can deploy new technologies and advances rapidly into the field.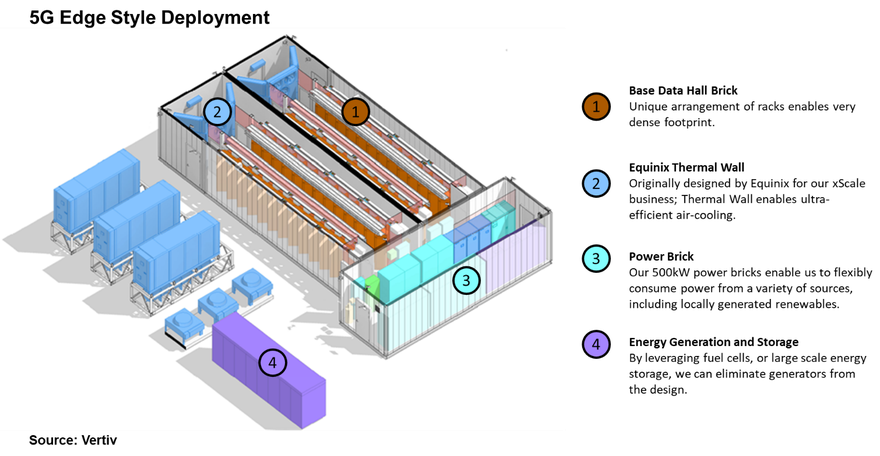 BX1 in Bordeaux – the first fully brick-based data center
The first brick-based Equinix International Business Exchange™ (IBX) data center that Equinix is building from the ground up is BX1 in Bordeaux, France. The concept for this facility originated at the Equinix Co-Innovation facility in Virginia and is now fully operational. We chose Bordeaux as the site for this data center because France is uniquely positioned for growth in smaller metros. Located two hours by rail from Paris, Bordeaux provides fertile ground for more than just excellent wine – it is also one of the fastest growing cities for e-health and digital jobs and is the top French metro for the creation of new businesses.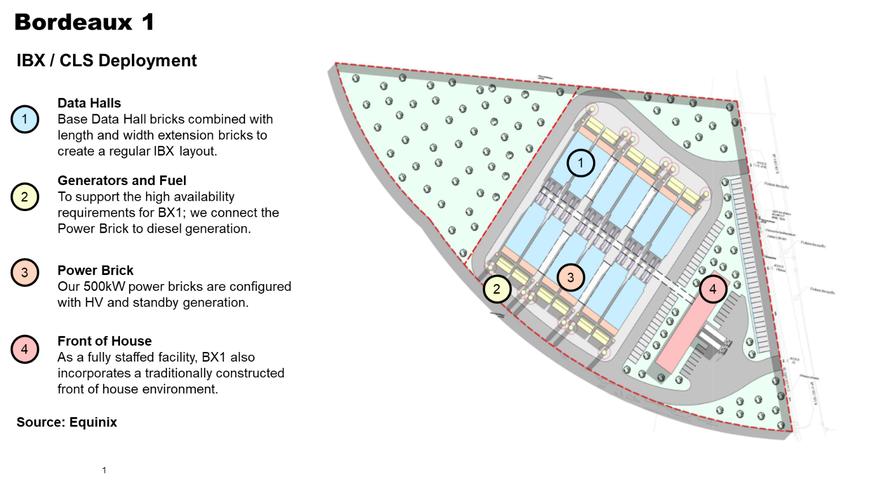 While BX1 is smaller and more compact than traditional IBX facilities, its density and strategic location make it an important addition to the Equinix portfolio of data centers. The facility will initially accommodate 220 cabinets and 1,000kW of power in over 32,280ft2 (3000m2) of space. It will serve as a cable landing station (CLS) connectivity hub for a recently launched mega cable, Dunant, and a new subsea cable, AMITIE, that will connect France with the US and the UK.
Brick-based data centers enable sustainability
Like other planned brick-based facilities, BX1 was designed with a net-zero carbon goal in mind. A design that is flexible enough to support different energy sources is especially important today. The power module bricks in BX1 are compatible with a variety of local renewable energy sources, fuel cells and large-scale energy storage.
In addition, the evolution of technologies, including 5G with associated edge compute, will require data centers to be built in locations that are primarily selected based on strategic location requirements instead of availability of power, which is typically among the first aspects of site selection. Our brick-based design gives Equinix greater independence, allowing us to be in those strategic locations.
Brick-based design extends to what is inside the data center
Building data centers from bricks makes everything from design to deployment much faster. Our customers tell us that they want to use their own IT to get the same speed of deployment, innovation and improvement that our IBX data centers currently deliver. That's why we are investing heavily in Equinix Metal, our automated bare metal-as-a-service solution that integrates with Equinix Fabric™, to deliver agility, scale and software-defined interfaces to manage digital infrastructure primitives across the Equinix global footprint.
Our next generation deployment model for Equinix Metal is also built on the concept of bricks to incorporate innovations in power and cooling efficiencies, reduce waste, allow for more seamless refresh cycles of technology and power a "go anywhere" model for physical infrastructure at software speed.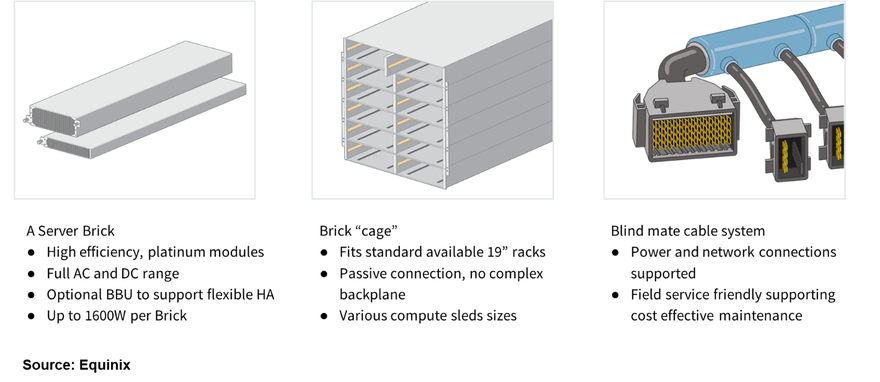 Our in rack server cage platform is built on Open192 and is also based on the concept of bricks. Open19 standardizes the physical server form factor, power delivery and network cabling, and speeds up the deployment of infrastructure by disaggregating the rack infrastructure (rack cage, cabling, network and power) from the compute brick installation.
Specialized bricks are easy to add, extending the life of older data center facilities by enabling them to support cutting-edge technologies like machine learning and a host of next-generation applications. Open19 does not specify any aspect of the server, other than the physical brick form factor, access to ambient air, and the blind mate power and network connectors.
The modular, interchangeable brick-based Open19 solution is ideal for edge environments, as well as custom cloud data center deployments. We combine this brick-based server infrastructure platform with our open-source provisioning platform, Tinkerbell, and our global operating capabilities to allow customers to consume physical bare metal compute bricks across the Equinix global footprint, with their own opinions on software and services.
Equinix is committed to developing Open19 to support future hardware needs, including machines with large core count CPUs, accelerators such as GPUs and specialized solutions like Smart NICs. These cutting-edge technologies demand a new approach to power and cooling.
To support this, Equinix is investing in sophisticated power management systems, including the next generation of battery storage technologies — from novel lithium chemistries to sodium and zinc. We are also working with the Open19 community on its 'V2' specification to support 48V power distribution to each server and developing a common standard for liquid cooling coupling to service more than 3kW per server brick.
Improved power and space utilization extends the life of older data centers
Brick-based data centers support various use cases, from cable landing stations (CLS) to edge facilities to traditional IBX data centers and IBX alternatives. They also offer a sustainable way of upgrading existing data center facilities to support the newest technologies. Brick-based annexes to existing data centers can take advantage of the variability of consumption and put it to good use.
In the future, brick-based expansions to existing Equinix IBX facilities will provide host to the latest generation of Equinix Metal, breathing new life into a generation of IBX data centers.
You can learn more about Equinix Metal to see how you interconnected access to bare metal across the Equinix global footprint can power your digital advantage.
If you'd like to find out more about Open19 or get involved in the development of Open19 V2 and Equinix's work around sustainable, brick-based datacenter rack technologies, refer to the Open19 Foundation website link below2.
LEGO® is a trademark of the LEGO Group of companies which does not sponsor, authorize or endorse this site
More...
Singapore's GIC sovereign wealth fund adding another $3.9 billion onto previous investments, companies will have portfolio of 32 xScale facilities

Scope 1 and 2 will be cut by half, no mention of scope 3

Equinix provides multi-tenant data center space and interconnection services for some of the world's largest forex service providers. In late 2015, one such provider approached Equinix with an intriguing challenge.