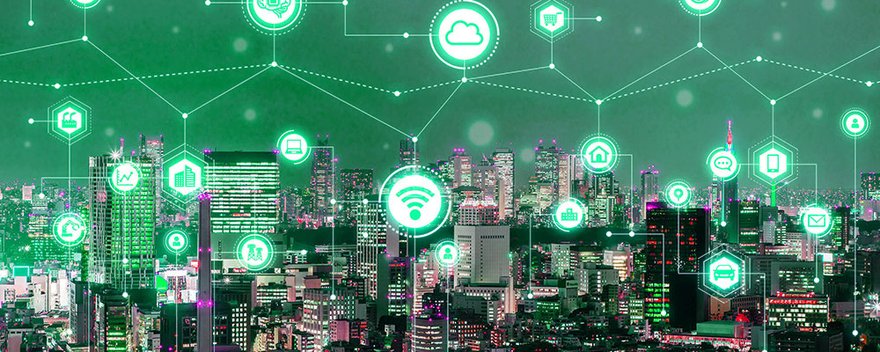 George Rockett, CEO of DCD sat down with Jim Simonelli, Senior Vice President & Chief Technology Officer, Secure Power Division at Schneider Electric, to talk about 5G, edge and COVID-19. As part of our premiere podcast series, DCD>Talks aims to take deep dives into key topics, trends and stories in the data center industry. Jim Simonelli has an established history in the data center industry, working with iconic brands like Schneider Electric, but also innovative new start-ups. Watch the full podcast here
Starting out the conversation with Edge rollout, Simonelli says there was a 15-20% growth in edge infrastructure. The increased connectedness has become more prevalent, and is becoming even more so at an accelerated pace. This is a key trend we've seen across the industry - while many industries are seeing growth slow, or come to a halt, data centers and 'IT' sectors are seeing an explosion in demand.
Simonelli says there are three technology vectors becoming key elements to think about in relation to edge technology:
Video analytics and the ability to monitor remote sites
AI processing at the edge to understand operations at a specific and local level
IoT allowing automated processes to keep facilities running without on the ground staff
These factors are increasingly important because both compute and physical infrastructure need to be merged to ensure digitisation happens at the right time, and in the right spots. Simonelli says "behind every edge site is a good data center", this idea remains important in discussion about infrastructure rollout. You cannot have one without the other, there needs to be a hybrid environment with criticality across the board.
---
The elephant in the room
Another trend Simonelli highlights is the impact of COVID-19 on the rollout of edge infrastructure. The focus, for many companies, has shifted from rollout and development of new technologies to the continuity of business and services. At a more personal level, the shift in work, entertainment and learning practices has been facilitated by what digital environments now have to offer. For many of us, this was all theory just a few months ago, but has now become the norm. It has prompted a whole new way of thinking, and has seen these theoretical concepts merge their way into practical environments (such as telehealth, ecommerce, etc.)
---
Changes in practice, changes in attitudes
With digital transformation moving to the forefront of many business strategies, visibility in the workflow of infrastructure has become center stage for many data center operators. APIs for infrastructure experts have seen increased demand. Simonelli says many clients want insights and manageability into edge projects. Manageability is increasingly important, as insights are great but need to be actioned.
Many clients don't just want to see what's happening, they want to be able to rectify, improve or change what's happening based on data they are receiving. Schneider Electric's monitoring and dispatch services allow operators to deploy plans that will fix problems before they start to occur, or start to affect other operational segments. Services like this work particularly well in cases where there is perhaps thousands of UPS across a single site.
---
The transformation of business
We all know how the unprecedented demand for digital services has sent the data center industry into overdrive, but what other sectors are seeing such growth? Simonelli says that many manufacturers, particularly for critical supplies (like medicine, PPE, etc.) have seen massive growth. Yet there are two key questions: how fast can you get it out and how can you do it while maintaining workforce health? Many organizations are having to balance increased demand with (perhaps) decreased productivity due to impacts of COVID-19.
Similarly, many areas of the healthcare sector have seen a rapid shift to things like telehealth, which was previously only used very rarely. Now these things have become the norm, how will other sectors transform?
---
5G, the hype and the reality
Simonelli says 5G is an accelerator for edge infrastructure, but the conversation has died down a little bit. The conversation has shifted to edge, and many things the edge requires can be done on 4G infrastructure. 5G is still important, but the sudden demand for services means that 5G rollout may not happen as closely to edge rollout as many previously thought.
Advances in technology are putting more interactive platforms and media at the forefront of the digitisation wave. The internet is no longer just for looking at cat videos, but has become a dynamic tool for business and personal interaction. Yet, as Simonelli points out, this requires a lot of movement in the infrastructure space.
---
Judgement Day - sooner rather than later
Despite the focus for many being handling the current crisis, companies like Schneider are still working on solutions and approaches to climate change. Simonelli says we will see digital infrastructure starting to use more and more energy in the near future. Because of this, both efficiency of energy usage and re-usage and management of waste need to be key focuses. How equipment and infrastructure is packaged and deployed will need to be evaluated and improved in order to better address the issues facing us. Long term thinking around usage of materials and ensuring minimal waste will address sustainability, both from an efficiency and lifecycle perspective.
More from Schneider Electric