Agility, efficiency, availability, reliability, and cloud adaptability are top considerations for enterprise IT deployments of the future, according to analyst firm IDC in a new white paper. As enterprises plan the next upgrade to their digital IT infrastructure, an all-flash data center looks set to address many of the most pressing challenges they face, says IDC in a recently published white paper titled "Moving towards an all-flash data center era to accelerate digital transformation".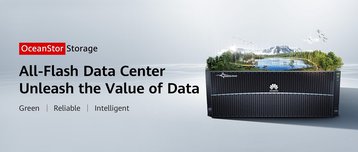 Powered by solid-state drives (SSDs), flash storage systems offer lower total cost of ownership (TCO) and expenditure per I/O, together with simplified management over traditional hard disk drives (HDDs). These are not the only factors driving flash adoption in enterprises, however. Here are five reasons why data centers of the future will be all-flash.
Flash no longer limited to specialized requirements
When flash systems first came to market over two decades ago, their high cost and constrained storage capacity saw them used only for an extremely narrow set of applications. Today, the affordability of flash memory and significant improvements in flash storage density have made flash systems more widely deployed than before. In the meantime, innovative data-centric applications have become a key driving force for rolling out flash systems, as enterprises seek to leverage the power of data to pull ahead of their competitors.
Moreover, distributed architectures that decouple storage from computing have turned to all-flash storage its reliability. Advanced data tiering means that distributed storage solutions are also adopting SSDs to reduce costs per gigabyte of storage while enhancing storage performance. Indeed, research from IDC indicates that many organizations now prefer to use all-flash systems as secondary storage due to its storage stability and the enhanced backup and data recovery performance of flash-based storage systems.
A growing focus on sustainability
As the impact of climate change makes itself felt around the world, awareness of the importance of sustainability is growing. At the same time, data centers are set to consume even more energy than before due to an intensifying focus on digital transformation. An all-flash data center offers a greatly reduced energy footprint, allowing environmentally conscious enterprises to move the needle on sustainability without compromising their digital initiatives.
The superior energy efficiency of SSDs lowers energy consumption and produces less heat for reduced energy costs, making an all-flash data center a logical choice for the future. Though cost is still a factor against the adoption of all-flash systems, the price gap between SSDs and traditional hard disk drives (HDDs) continues to narrow every year. Based on the trajectory of current price trends, the price of enterprise-class SSD is expected to fall below that of a comparable 2.5-inch 10,000 rpm HDD deployment by 2025.
Faster, more uses for flash storage
Despite a clear advantage over HDD, flash technology has not stopped evolving and is consistently improved to deliver faster performance. For instance, NVMe (Nonvolatile memory express) SSDs bypass the disk controllers used in SATA or SAS and goes straight to the PCIe bus for increased responsiveness, more I/O operations per second (IOPS), and better performance. Over the network, NVMe over RoCE is maturing and offers reliability even in heavily saturated IP networks.
Organizations who move to all-IP networks today can turn to NVMe over Ethernet for performance and cost advantages especially in infrastructure scenarios entailing the decoupling of storage and compute. Ultimately, enterprises can access higher transmission performance, wider connectivity, and manageability, as well as simpler Operations and Maintenance (O&M) with storage over IP. The flexibility of SSDs offers flexibility in chassis dimensions that can be advantageous in remote edge deployments.
The rise of memory-driven infrastructure
The push to drive greater performance from existing infrastructure has contributed to growing interest in rolling out memory-driven infrastructure. By demolishing the latency bottlenecks between memory and SSDs, a memory-driven architecture uses emerging persistent memory technologies to reduce data access latency and offer superior performance with enterprise-class storage capabilities.
On this front, storage class memory (SCM) is a new memory and storage technology that offers the features of dynamic random-access memory (DRAM) and traditional flash storage. Deployed alongside standard flash storage systems, it reduces backend storage capacity and brings down the cost of an all-flash data center. To be clear, challenges such as high cost and full compatibility with existing applications must still be overcome become SCM is ready for mainstream adoption. Regardless of whether an organization opts for SCM or not, it is evident that all roads to the data center of the future currently calls for an all-flash deployment.
New use cases requiring fast storage
The growing momentum of new use cases such as real-time analytics and artificial intelligence (AI) such as machine learning (ML) training or deep learning algorithms are expected to increase demand for faster storage. As the demand for fast storage grows with growing cross-domain use of data, segregating workloads based on performance requirements will increasingly be seen as cumbersome. On that front, an all-flash data center makes it possible to consolidate workloads onto fewer platforms, allowing the infrastructure team to focus their attention on improving other aspects of operations.
At the same time, future digital infrastructure can benefit from the use of AI in the form of AIOps, or AI for IT Operations. With AI, it is possible to detect anomalies, enable predictive maintenance, for a future where IT is self-tuning and autonomous. This will only be possible with continuous data analysis, powered by fast, reliable flash-based storage that is interconnected across the data center.
Achieving success with flash
Organizations have already achieved success with all-flash storage. One of the largest hospitals in Belgium, Cliniques Universitaires Saint-Luc, turned to flash to overcome a slow storage subsystem and limited storage capacity for its core IT system. By reconstructing its data center using OceanStor V3 storage, Huawei's end-to-end data storage solution, it seamlessly uplifted its entire infrastructure to support clinical research systems and databases running on its unified information platform.
Similarly, the financial sector with its requirement of high resilience has also turned to flash storage. ITAU, the largest bank in Latin America – and one of the largest in the world, implemented an all-flash solution to overcome the storage bottleneck faced by its core debit card service system.
By deploying the flash system on Redundant Array of Independent Disks Triple-Parity (RAID-TP), the bank ensured extreme reliability that can tolerate the simultaneous failure of three flash storage disks, ensuring business continuity and the stability of its mission-critical business. Meanwhile, Huawei's OceanStor All-Flash Arrays (AFAs) significantly reduced power consumption for devices and cooling systems — by 45% — also slashing maintenance costs by 65%.
Separately, a large state-owned bank reviewed its IT infrastructure and adopted NVMe over RoCE to overcome the 32Gb bottleneck of its existing Fiber Channel (FC) storage area network. This reduced the complexity of maintaining it while ensuring reliability with the ability to tolerate failures occurring at the controller, the front-end interface, or the front-end business lines. Overall performance in terms of random I/O operations over FC was improved, too.
Conclusion
All-flash data centers are the right choice for building the next-gen data center of the future. Whether to take advantage of its high performance, simplify infrastructure deployments, or lower energy and space requirements, flash storage systems are an important pillar for addressing your future storage requirements.
Learn more about all-flash storage systems from Huawei
Huawei will host Huawei Connect 2021 online from September 23 to October 31, complete with live broadcasts, digital exhibitions, and the opportunity to connect with industry experts. The theme of this year's event is Dive into Digital. We're going to dive deep into the practical application of technologies like cloud, AI, and 5G in all industries, and how they can make organizations of all shapes and sizes more efficient, more versatile, and ultimately more resilient as we move towards economic recovery.
For more information, please contact our local team or click here.
More...
Although Sweden's Boden data center has measured 1.018

New AZ2 second Availability Zone aims to reduce anxiety about redundancy