Malaysia was, for many years, overlooked by the data center market. A relatively small country in South East Asia, hyperscalers did not show much interest in building in the country, and as a result, Malaysia had to take charge.
In a recent DCD>Talk, we sat down with Wan Murdani director of digital enablers for MDEC, the Malaysia Digital Economy Corporation, to talk about how Malaysia went from being overlooked, to being ranked the 22nd data center landscape in the world and second in ASEAN by the Arcadis Data Center Location Index.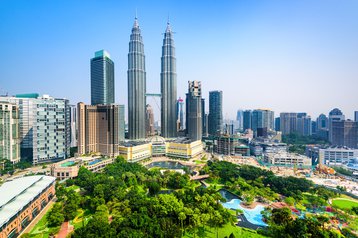 According to Murdani, progress didn't start to kick off until 2010, when the government was successfully convinced that data centers were a key driver in their four-core national economic transformation plan.
"We didn't have anything back then, we didn't have any hyperscalers, any major investment in data centers. But what we did was show to the world that the government is committed to bringing this investment," said Murdani.
With the government's backing, MDEC was able to start the process of doing due diligence on the requirements investors would be looking for when they venture into new markets.
"From there, we looked to see which locations have some readiness level for them to be positioned as potential investment locations," said Murdani. "This is where we were getting support from the telcos, the connectivity providers, the energy providers, and from the State governments."
In terms of demonstrating that there was a demand for digital infrastructure, that was never really a problem for Malaysia. In ASEAN alone, Murdani cites that there are at least 440 million Internet users, and the digital economy's GDP reaches around $3 trillion. Therefore Malaysia doesn't only have its own country to serve – it can also export digital infrastructure services to the neighboring countries contributing to this massive number.
In order to get Malaysia onto the data center map, MDEC has tackled three aspects.
"There are three main areas that we are mandated to," explains Murdani. "The first one is attracting digital investments. So we are the leading IPA – Investment Promotion Agency – for digital investments. The second is helping local companies to penetrate the regional market. And thirdly is within global talent. So these three ingredients are quite important for us to drive the economy."
Ultimately, MDEC is attempting to contribute about 25 percent to the national GDP from 'digital economic activities.'
"When we first started to promote this kind of investment, people were questioning us and arguing that we weren't bringing high-value jobs," admitted Murdani. "I think it was right at that point in time because there weren't any direct jobs to be created from these kinds of investments. But there are more indirect jobs being created.
"For example, if you're bringing 1,000s of servers into Malaysia, you need people to refresh those servers, and you need engineering services, and companies to be able to serve the mechanical and electrical requirements of the data center. You need certain developers to develop product services that are riding on a data center. So those are the intangible jobs that weren't part of the initial investment but it has created the right ecosystem for us to be able to drive those kinds of roles."
Find out more about Malaysia's data center market by tuning into the full DCD>Talk