In the data center of the near-future, rust will spin no more: storage will be all-flash and data center networks will be consolidated on industry-standard Ethernet, from 'cold storage' all the way up to the server.
The shift from hard-disk drives to SSDs has already started in earnest, but will gather pace as data center operators seek to wring greater energy savings from their infrastructure, increase their service reliability and uptime still further, and pack more compute power onto valuable real estate.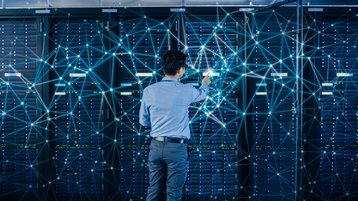 According to Huawei, SSDs can reduce power consumption by 70 percent compared to conventional hard-disk storage, and cut the space devoted to them by half. Furthermore, while po-faced beancounters might in the past have balked at the higher price per terabyte of SSDs, the economics has shifted in favour of flash storage as a result of the introduction of deduplication and compression technology.
The all-Ethernet data center
The next step is a shift to Ethernet for storage area networks, which will also contribute to data center network automation journeys.
Until recently, the use of Ethernet in storage area networks has been limited due to packet loss, radically affecting networking performance. This typically occurs when multiple servers send a large volume of packets to a server at the same time, exceeding the processing capability of the network infrastructure. Data therefore needs to be re-transmitted, but a rate of just 0.1 percent packet loss can cause a 50 percent drop in overall networking performance.
Furthermore, Ethernet was never designed to work over the kind of distances that data center storage area networks operate.
Over some 40 years of commercial development and implementation of Ethernet, the issue of packet loss has never been satisfactorily resolved. The Ethernet flow control algorithm temporarily stops data transmission over Ethernet in order to avoid packet loss due to congestion, but is invalid over transmissions of more than a kilometre.
However, Huawei's breakthrough iLossless-DCI algorithm – which forms part of its latest CloudFabric 3.0 Hyper-Converged Data Center Network solution – can extend this range to 70km. Huawei's iLossless-DCI algorithm uses artificial intelligence trained over millions of real-service samples, as well as millions of random samples. In the process, network bandwidth can be improved from 32 Gigabits (G) to 400 Gigabit Ethernet (GE), a ten-fold increase in bandwidth with an improvement in input-output operations per second (IOPS) of 87 percent.
The development of such algorithms will inaugurate an era of data center network consolidation on Ethernet as a precursor to greater data center automation.
Automation challenges
IDC analyst Dan Casemore is author of the report 'Leveraging the Autonomous Driving Datacenter Network Index'.
"Traditional approaches to designing, provisioning, deploying, and operating networks have become untenable in the cloud era," says Casemore. "Applications are the lifeblood of organizations today, and networks provide the digital nervous systems that support and deliver those applications. The problem is, as application architectures and development methods become more agile, the traditional data center network has not kept pace."
Organizations "need more than a fragmented and piecemeal approach [to data center automation] represented by a mix of automated scripts and configuration automation tools. What's required is a comprehensive approach to intelligent network automation that provides a flexible architectural foundation and optimal operational simplicity," he adds.
But if the respondents of a 2020 IDC survey is any guide, this remains a long way off. Two-fifths admitted that "keeping pace with compute and storage automation" was their main challenge. But that's not all. They also admitted that supporting mixed workloads and environments, as well as managing multi-vendor infrastructure, including cloud architectures and applications, was also proving onerous.
"Most organizations today… have not adopted and implemented a comprehensively autonomous data center network, irrespective of stage of the network life cycle," notes Casemore. "Many are just beginning their network automation journey."
Keys to the future
Data center network automation will be a long-term process that will require solutions such as Huawei's CloudFabric 3.0 solution or Cisco Systems' Intent-based Networking solution for data centers (Cisco IBN).
Leading global provider of ICT testing and third-party validation and certification services, Tolly pitched both solutions, head to head, in an in-depth June 2020 report1. It tested both against a variety of criteria that sought to place where each faired in terms of the five phases of autonomous driving networks.
It found that while both Cisco and Huawei solutions offered a number of similar capabilities, the "Huawei CloudFabric solution provides device replacement impact analysis, interface capacity prediction, and RoCE [RDMA over Converged Ethernet] traffic optimization to ensure zero [Ethernet] packet loss, outperforming Cisco's IBN solution."
In the process, Tolly pegged Huawei's CloudFabric 3.0 at Level three out of five, concluding that it is capable of providing a 'conditional autonomous network'. It explained: "Based on dynamic policy analysis in specific scenarios, the system provides recommendations to assist manual decision-making to implement basic closed-loop management of dynamic policies."
The development of lossless long-distance Ethernet communications opens up a number of possibilities, according to Tolly, including the implementation of networking-as-a-service and second-level provisioning. Huawei's CloudFabric 3.0 also implements fault self-healing and ensures always-on services for data center networks.
"Tolly attests that Huawei's CloudFabric 3.0 is the first solution to achieve Level 3 autonomous driving network capability in the industry," says Kevin Hu, President of the Data Communication Product Line at Huawei.
He continues: "By providing end-to-end intelligent deployment and operations, the OPEX [operational expenditure] can be reduced by 30 percent. The solution can also build all-Ethernet computing and storage networks with zero packet loss, helping to unleash computing performance by 100 percent."
Given that it has taken 40 years or so for the first lossless Ethernet implementation to become commercially available in Huawei's CloudFabric 3.0, it may take some time before data center operators wake up to the potential of a transition to all-Ethernet networking. However, the combination of greater automation and radically lower operational expenditure ought to persuade many to test whether their data centers are ready for Huawei's Level 3 autonomous driving network technology.
Please visit here for more information about Huawei's CloudFabric 3.0.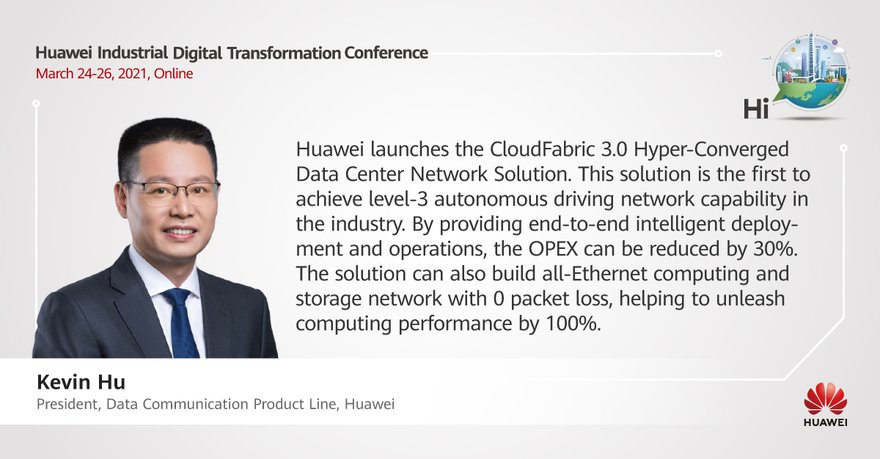 'Autonomous Driving Data Center Network – Huawei CloudFabric Solution Versus Cisco IBN Solution'; Tolly Group, June 2020.