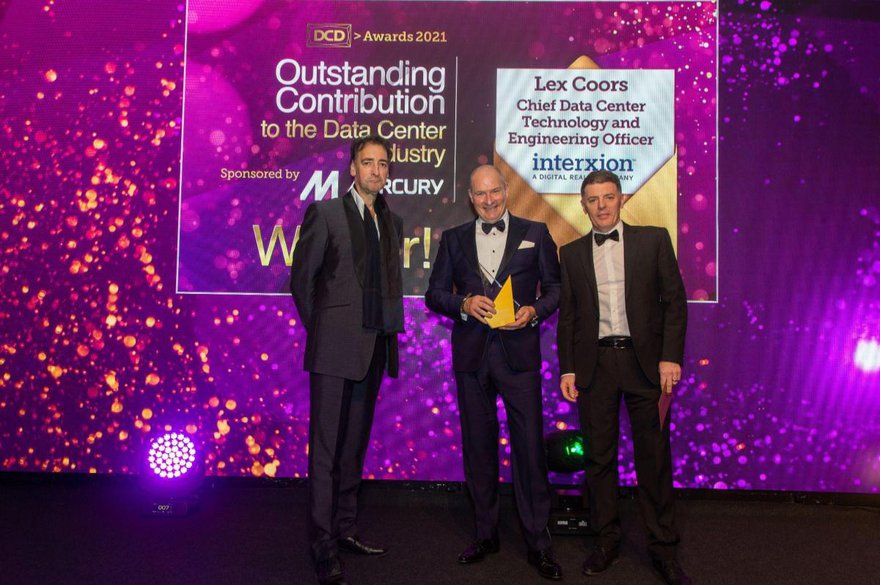 Category sponsor Mercury Engineering presented DCD's "Outstanding Contribution to the Industry" award to Lex Coors, Chief Data Center Technology and Engineering Officer for Interxion | A Digital Realty Company.
The previous winners of this award are all distinguished by their extensive service to the data center industry through publication, education, developing innovation and active involvement with the data center community globally. Coors joins the ranks of past recipients including Don Beaty, Ken Brill, Peter Gross, Dean Nelson, Emma Fryer and more.
When asked about the history of this award, Eoin Vaughan, CEO of Mercury said, "Each of the winners have given incredible service and pioneered extensive developments for our sector. The continued success of our industry is built upon this leadership, vision and commitment that we are so proud to celebrate Lex this evening."
"Lex has been around since I can remember and since the industry as we know it began," says DCD CEO George Rockett.
"The business he represents has grown from an acorn into a multi-billion euro entity over that time. He is a discussion fire starter, an innovator, and an educator (now with associate professor in front of his name), a communicator, and a major voice of the industry to the likes of the European Commission. Maybe more importantly, he's a great friend to many of us."
MRS2, MRS3 and the forthcoming MRS4 will be cooled by an underwater stream

Congratulations to those that won in our biggest and best year ever

Company planning new campus to the south of the French capital, and is replacing diesel with HVO