AVK, a leading provider of critical power solutions, is pleased to announce a number of new appointments that will further assist the company's ambitious growth plans and continued expansion across the European market.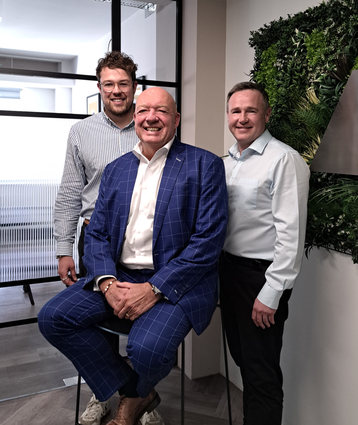 After over 33 years as managing director, Chris Pritchard will be taking on a globally strategic role as founder/chairman.
Chris's new role will see him maintain Board obligations as the owner of AVK, with the further responsibilities of ensuring continuous alignment between the organization and its global clients to maintain technical excellence and service delivery; together with developing partnerships with best of breed technology companies for future power applications.
Chris will be supporting the business to meet changing environmental standards and maintain the company's position at the forefront of future power solutions for data center requirements.
After over a decade with the business, Ben Pritchard will be stepping into the role of CEO. Ben has been one of the key forces behind AVK's growth and diversification, and in his previous role as sales director, secured some of AVK's biggest projects to some of the world's largest data center clients.
Through his drive, determination and understanding of the wider market forces at play, Ben has helped to expand the business across Europe, and by establishing AVK's Energy Solutions arm, he has been instrumental in developing AVK into a complete power solutions provider.
One of Ben's first roles as CEO will be to welcome Dean Bradshaw to the Board of Directors to fuel further growth in sales. Dean has over 20 years' experience as a former VP with one of the world's leading electrical engineering and manufacturing firms specializing in critical power solutions.
An integral part of that business, Dean contributed to sales growth of more than £400m, and brings with him not only a wealth of knowledge, but the experience to lead AVK's sales across a global marketplace.
Working closely with clients and technology partners, AVK is currently building multiple microgrids for a number of data center operators across Europe; utilizing gas, renewable HVO fuels and battery storage systems to deliver reliable alternative power generation solutions and change the way the market views energy.
Commenting on the changes ahead for AVK, Chris Pritchard said, "This is a time of important transformation for AVK and the role we are playing in the wider global energy revolution.
"The Board of Directors and the senior leadership team are aligned on the trajectory and strategy the business needs to take to continue our growth and success; and I am confident that with Ben, Dean and the existing Board driving the business forward, AVK is more than prepared for the opportunities and challenges that lie ahead."
Welcoming Dean to the AVK team, Ben Pritchard commented, "We are genuinely excited to have Dean on board as our new sales director. AVK has grown and differentiated our offering exponentially to become the true leaders in our field, with an unparalleled reputation for service delivery and innovation.
"Dean's knowledge and experience allows AVK to accelerate our already aggressive European expansion plans and successfully deliver innovative and more sustainable solutions for our existing and new global client base."
For more information about AVK's range of critical power solutions and services, please visit www.avk-seg.com
More in The Critical Power Channel