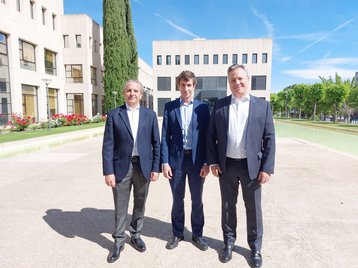 Sener, a highly diversified Spanish engineering and technology firm involved in large scale projects, has become majority shareholder of Quark, a specialist data center design and construction company, making its entry into a booming sector.
Under the direction of its founding partners, Ricardo Abad and Miguel Gallego, who will continue to lead the business, Quark has been active in the sector for 14 years. They have worked with numerous major data center operators, including Equinix, Digital Realty, Nabiax, CyrusOne, Iron Mountain, Prime Data Centers and with corporate clients including Inditex and BBVA, deploying more than 350MW of infrastructure to date.
Sener works across the Aerospace, Energy, Mobility and Marine sectors, employing 3,000 staff globally on five continents. The deal will allow Quark to support clients with their global growth strategies.
Jorge Sendagorta Cudós, CEO of Sener said of the deal, "We are delighted with this acquisition, which gives us entry into a new market. The rise of the data center sector means a growing demand for more sophisticated engineering solutions that guarantee the reliability of these infrastructures, as well as their energy supply in an efficient and sustainable manner. Our well-established network of international offices, together with Quark's knowledge of the sector, will position us as a very competitive player in this space globally".