Our DCD>Connect New York event has come to a close. While we are all very sad to say good bye, we have to admit - it was a good'en.
A big part of the event is always the networking opportunities, but we want to take a moment to appreciate all our speakers and the high quality of DCD>Talks, panels and debates they enable us to keep producing!
Here's a look at some of the highlights:
Liquid cooling debate
The debate titled, 'Is a big transition from air to liquid cooling a foregone conclusion?' on day 1 was a flying success. We even had to add extra chairs last minute to accommodate the crowd.
Debaters included Don Mitchell from the Open Compute Project, Danielle Rossi from Trane, Gary Fernandez from Verizon, and Drew Tuholski of Vertiv. Of course, no forgetting our wonderful and cheeky host, Sebastian Moss, whose articles you all know and love.
Because this was on day 1, sadly there is not footage available on demand. To not miss out in future, you'll need to attend a Connect event in person!
Don't worry, our day 2 episodes will all be available for streaming in the coming weeks.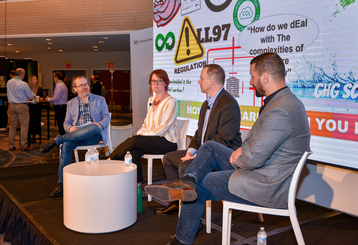 Transparency & Sustainability
It wouldn't be a DCD event if we didn't tackle the serious stuff too - and in this panel, we discuss the ever-important issue of increasing transparency around sustainability metrics.
The discussion between Adam Kramer from nZero, Carsten Baumann from Schneider Electric, and Benoit Allehaut from KKR made for an interesting debate about the benefits of opening up to the world a bit more about the sustainability struggle, so we can all improve together.
This panel will be available to stream shortly, so keep an eye out.
The metaverse
The metaverse seems to be inescapable these days. With Zuckerberg promoting it at every opportunity he gets, we decided to end the Connect event with a discussion of what will it really take to build the metaverse.
Contributing to this panel was Sami Badri from Credit Suisse and Zachary Smith from Equinix, a conversation hosted by the one and only George Rocket.
This panel is a great look into the future, and what we can really expect the metaverse to look like.
---
With several other talks and panels to be posted in the next few weeks, keep your eyes peeled for any updates!
And that's a wrap.