A $1.5 billion data center park is being proposed on land in Niagara Falls, New York, that the local government was preparing to take over for a planned events park project.
Niagara Falls Redevelopment (NFR) and Urbacon, unveiled plans this week to develop the "Niagara Digital Campus," describing the project as a "technology and data center campus in the heart of Niagara Falls, New York."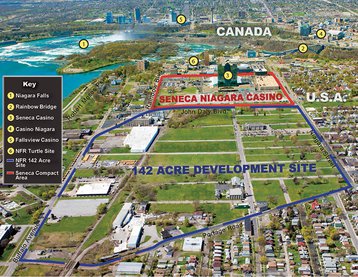 Urbacon is a Toronto, Ontario-based construction company that said it has successfully built similar facilities in Montreal, Toronto, and Richmond Hill, Ontario through its Urbacon Data Centre Solutions unit. NFR, a subsidiary of New York City-based Milstein Properties, owns more than 140 acres of real estate in Niagara Falls.
The $1.5 billion site would be located at the intersection of Rainbow and John B. Daly Boulevards, and would feature about 600,000 square feet (55,700 sqm) of "high-security, technologically advanced data center space" and offer up to 135MW of capacity.
"Our Niagara Digital Campus will be among the largest developments in Niagara Falls' history, bringing jobs and high-tech opportunity that will benefit area residents for generations," said NFR Executive Vice President Roger Trevino. "We have been in discussion with city officials for months and look forward to working closely with the city as we refine the plan – creating a campus that enhances and serves all members of our community."
The proposal comes as Niagara Falls prepares to begin proceedings to take 12 acres of NFR's land at 907 Falls St. for its planned new Centennial Park via eminent domain laws. A hearing on the topic was scheduled this week.
The park would be an events space that would include an indoor Arena, outdoor Amphitheatre, a Water Feature Ice Skating Rink, a multilevel surface parking deck, and a Wall Climbing Adventure Course. The City had identified NFR's plot as a potential site for the park.
Discussions between the City and NFR have been going on behind the scenes for months, and have been described in local press as 'contentious' and suggested the proposals may be an attempt to inflate the land value ahead of an eminent domain proceeding.
Buffalo News reports that the proposal got a cool reception from Niagara Falls Mayor Robert Restaino, who questioned whether a technology and data center was the best use of land near a major tourist destination. He also raised doubts about the ability of NFR and its partner to deliver on its job promises; billed as 5,600 construction jobs and more than 550 permanent jobs.
"It's not the best use for that property. That's a gateway into the city," Restaino said, adding that NFR's property is not properly zoned for a data center, and that such an operation would not be the best use for that location.
"They can talk about wanting to build something, but the zoning requirements down there wouldn't permit it," he added. "I've had NFR people tell me Centennial Park is the 'perfect place' for [a data center]. This is about [increasing] the value of their property."
NFR's Trevino said: "We understand that the city has identified NFR's Falls Street property as its favored location for the recently announced Centennial Park project and has commenced the eminent domain process to that end. We firmly believe that eminent domain proceedings are not needed, and we oppose such actions as highly premature. Eminent domain can take years and cost taxpayers millions. It would be completely unnecessary in the face of the opportunities we have been discussing with Mayor Restaino."

Urbacon Vice President of Properties and Development Management Peter Russell said, "We are truly excited at the prospect of bringing our new facilities to Niagara Falls. With ready access to hydroelectric power, Niagara Falls is an ideal location for the campus. And the city's northern climate requires less reliance on mechanical cooling, allowing for operations that are quieter and more energy-efficient."
NFR is proposing to donate a portion of its existing land to the City of Niagara Falls for public amenities, including a potential public park and events center. NFR will also donate $250,000 to the city each year for 10 years for upkeep and maintenance of the park. NFR would also cover the cost of any parcels of land that needed to be acquired by the city that NFR does not already own.
"We believe this project can be underway within six months of receiving approvals – creating jobs and opportunity for the City of Niagara Falls. It's an enormous opportunity for the region, and we look forward to working with Mayor Restaino and other local officials to make the Niagara Digital Campus a reality," Trevino said.
Backed by the Fonds immobiliers de solidarité FTQ, Urbacon Data Centre Solutions currently operates four data centers across Canada; a 21MW, 266,671 sq ft (24,775 sqm) facility in Montreal; a 22MW facility in Toronto; and a six-facility master-planned campus in Richmond Hill that could reach 130MW at full build-out. Two data centers are live -- offering 22MW across 220,000 sq ft (20,400 sqm)-- and another 110,000 sq ft (10,200 sqm) 18MW facility is currently under construction.
More in Construction & Site Selection