Colocation provider 5Nines has opened Northern Ireland's largest carrier-neutral data center in Coleraine, County Derry.
The first of six planned data halls is ready for customer equipment, able to house around 200 racks.
The facility is located on the Atlantic Link Enterprise Campus, next to the landing point for the Project Kelvin transatlantic fiber cable that connects Coleraine and Halifax, Nova Scotia.
"We are the closest data center to North America and have the fastest connectivity there for any UK data center. We also have an enviable position of being a well-connected UK data center within a very short distance of Dublin and the post-Brexit EU market," said Paul Besley, general manager at 5Nines Northern Ireland.
New markets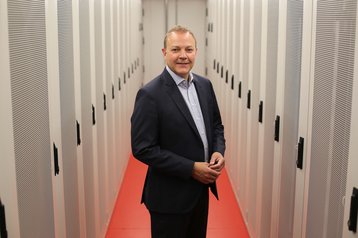 5Nines owns and operates a network of data centers across the world, including sites in the Netherlands, Finland, France and the United States. Since 2017, all of the company's facilities are being serviced and maintained by CBRE.
5Nines' latest infrastructure project is located in Northern Ireland's first Enterprise Zone, a 40-acre industrial park which benefits from government incentives such as Enhanced Capital Allowances to encourage business investment.
"We are thrilled to see the opening of the data center on the site and look forward to welcoming more businesses as they take advantage of the tax benefits, beyond the existing business advantage," said Brenda Chivers, Mayor of Causeway Coast and Glens Borough Council.
The 45,000 square foot data center building will eventually house more than 1,200 racks. The project is expected to cost £20 million.
"The center includes purpose-built equipment build rooms giving clients a secure space to unbox, set up and test their servers while we've created hot desking and office space to provide a perfect environment to work from while installations are completed. These facilities are all available to our customers, large and small," Besley said.
"Our number one priority is the security of the data companies choose to store here. That's why the entire center is covered by CCTV surveillance while all systems are backed up to ensure there is virtually no chance of an outage."