Africa Data Centres (ADC) has signed a Power Purchase Agreement (PPA) with Distributed Power Africa (DPA) to procure solar energy.
The Pan-African operator, part of Cassava Technologies, this week announced it had signed a 20-year PPA with DPA, which will supply 12MW of renewable energy to power its South African operations via wheeling [where energy is delivered from the renewable energy site to the customer via existing distribution or transmission networks].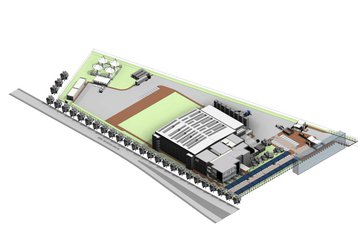 "Through this agreement, our customers will benefit from a sustainable data center," said Tesh Durvasula, CEO of Africa Data Centres. "While data centers are the foundation of the digital transformation process in Africa, they require reliable, cost-effective, and preferably green power to operate. Our partnership with DPA will also help in reducing our reliance on the strained South African national grid, enabling us to play our part in alleviating the current energy challenges facing the country."
DPA (previously known as Distributed Power Technologies) is a pan-African renewable energy company with operations in South Africa, Kenya, and Zimbabwe. It is part of the Econet Group, which is also the parent company of ADC and Cassava.
Energy will be delivered to Africa Data Centres' facilities partly from the solar farm DPA is developing near Bloemfontein.
ADC currently operates three South African data centers; two in Johannesburg in the Samrand and Midrand areas of the city, and one in the Diep River area of Cape Town which is undergoing expansion. The deal will reportedly cover around 30 percent of the company's data center operations in the country
Norman Moyo, CEO of DPA, said: "Our customers are looking for cost-effective and efficient ways of meeting their green targets and reducing energy costs for their businesses in a climate of increased power shortages. We are excited to embark on this milestone project with Africa Data Centres as it will demonstrate our innovation in deploying renewable energy solutions."
The deal was signed with DPA Southern Africa Pty Ltd (DPA SA), a joint company of Distributed Power Africa and French utility company EDF.
Valérie Levkov, SVP Africa and Middle East at EDF, added: "This agreement with Africa Data Centres re-affirms EDF's commitment to providing low carbon solutions for commercial and industrial clients in Africa, and we are very pleased to be a part of this initiative."
DPA has previously worked with sister company Cassava Technologies and its subsidiaries a number of times. The company deployed more than 1MW of solar on the roof of ADC's East Africa data center in Nairobi, Kenya in 2021; it also led a 1.2MW rooftop deployment for ADC's data center in Midrand, South Africa in 2019; a 4kW rooftop deployment at a Liquid Telecom site in the DRC; and deployed 104kW of solar at Cassava parent company Econet's Leo data center in Bujumbura in Burundi.