Cooling company Airedale has launched DCS, a new range of air-cooled chillers designed to extend the use of free cooling.
The new chillers upgrade the existing DeltaChill, TurboChill, and OptiChill platforms, to improve compressor control, and add hardware upgrades. They now operate at increased water temperatures, to keep up with trends in data center cooling, and maximize the opportunity to use free cooling, i.e. cooling the data center without using mechanical cooling. The range includes various compressor technologies and refrigerants, including the low global-warming option R1234ze.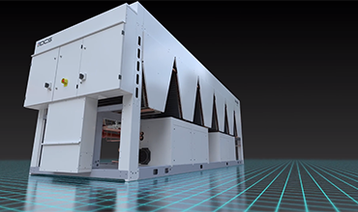 Redesigned condenser
The chillers have redesigned V-block condenser coils and larger EC fans for better airflow. which Airedale says will allow a higher percentage of full free cooling days over the course of a year. The combined upgrades could save up to 39 percent on annual energy cost savings compared with traditional free cooling methods, according to Airedale's reckoning. This will improve PUEs, and help operators meet environmental targets.
As mechanical cooling is used less, there will be less stress on components like compressors, to the systems should need less maintenance and last longer, so long-term costs should be improved.
Specifically, the DCS systems have 910mm EC fans which deliver more air than the 800mm fans on standard units, and have five rows of free cooling coils, instead of three rows on standard units. The supply/return water temperatures are increased up to a maximum of 20/32C (68/90F)
The TurboChill DCS covers 200kW to 1830kW, DeltaChill DCS handles 110kW to 1100kW and OptiChill DCS provides 1850kW of cooling.
Patrick Cotton, Product Manager for chillers at Airedale, said: "In modern high-capacity data centers, balancing performance with sustainability, without compromising, is a priority, as data center operators work hard to reduce their carbon footprint whilst maintaining availability during a global surge in demand for data."
The DCS range is one of four new product families launched by Airedale. The others are
SmartCool One, a 1MW computer room air handler (CRAH) designed for colocation and hyperscale data centers. It will be standardized for a global market and manufactured in the UK, Spain, and the US
IQity, an IoT-enabled technology framework, designed to get chillers and coolers working together to improve efficiency and optimize for each individual site.
Cloud Diagnostics, a cloud-based monitoring platform, available on phone, tablet, or laptop.