AirTrunk has opened hyperscale data centers in Singapore and Hong Kong.
Announced last week, these are the first AirTrunk data centers to go live outside Australia, where the independent data center provider has three hyperscale facilities.
When fully built-out, SGP1 and HK1 will offer a total of 80MW combined. A sixth hyperscale campus in Tokyo, Japan is currently under construction.
Global expansion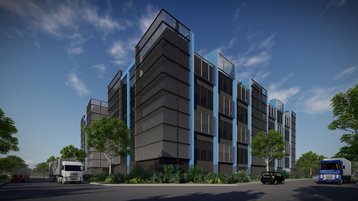 SGP1 is a greenfield facility located in Loyang at the northeast side of Singapore and near the Changi North Cable Landing Station. Built on 1.5 hectares of land, it offers 20,000 sqm of white space. It opens with 30MW in its first phase and will offer over 60MW eventually.
HKG1 is located near Tsuen Wan in Hong Kong and is located in a key hub for international connectivity. Converted from an eight-story industrial building, it offers over 20MW of power.
Accredited with BCA Green Mark Platinum, SGP1 has a PUE of 1.25 and is the most land-use efficient in the market with the highest IT load per square meter, claims AirTrunk. HKG1 has a PUE of 1.35.
Both SGP1 and HKG1 were completed quickly despite challenges presented by the ongoing pandemic, with strict protocols to protect workers from the risks of contracting Covid-19.
"Today we opened our first data centers in Asia, not just one but two hyperscale facilities – a monumental achievement for the AirTrunk team, our partners, and customers. Our Hong Kong and Singapore data centers are connected, secure, and efficient homes for the cloud in Asia," said Robin Khuda said, the Founder and CEO of AirTrunk.
"Covid-19 has accelerated already increasing demand for hyperscale data center infrastructure across the Asia-Pacific region. We build our hyperscale facilities at record speed, but safely and to the highest quality standard," he said.
One customer at SGP1 is telecommunications provider StarHub, which had previously said it will be providing a full suite of information and communication technology and connectivity services to its customers.
Earlier this year, Macquarie Infrastructure and Real Asset led a consortium that acquired a majority stake of 88 percent in AirTrunk that values the latter at more than AU$3bn (US$1.8bn).