China's e-commerce giant Alibaba is expanding its cloud facilities vigorously. After announcing a cloud data center in Silicon Valley in the US this March, it has launched a large cloud data center in North China.
The Zhangbei cloud data center broke ground in the Miaotan Industrial Park in Zhangbei County, Hebei Province, according to Hebei Daily. It is expected to host 80 percent of Alibaba's cloud and big data in North China and to serve as the group's North China settlement center. Currently, cloud only accounts for one percent of Alibaba's total income, but the group has bet its future on cloud.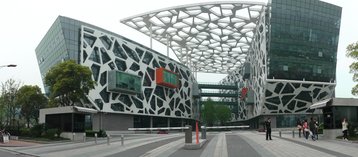 As well as Silicon Valley, the internet giant has data centers in Hangzhou, Qingdao, Beijing, Shenzhen and Hong Kong, and gas about a 23 percent share of the domestic cloud market.
Coming in 2016
The Zhangbei data center, which covers about 165 acres, will cost 18bn CNY (US$2.9bn), according to Haifeng Qu, research fellow in the technical support department of Alibaba.
Phase 1, which covers an area of about 74 acres and can hold 300,000 servers, should be online in April 2016.
To ensure reliability, Alibaba plans to build three data centers to back each other up, in Miaotan Industrial Park, Xiao'ertai County and the planned Zhongdu Airport.
Alibaba chose Zhangbei County because of climate and energy sources. The countuy has an average annual temperature of 2.6℃, favorable for free cooling, and produces 5bn kWh of renewable wind and solar energy each year, while annual consumption of the whole town is less than 400m kWh. Moreover, the county has about 344 days of good air quality each year, which can help to extend the lifespan of its servers.
The data center is intended to foster cooperation among Beijing, Tianjin and Hebei, and become a vital part of Zhangbei Cloud Industrial Park, a zone where the Zhangbei Yunlian data center, which will be able to host 200,000 servers, broke ground in August last year. Phase 1 is expected to be put into use by the end of this year.
In addition, a 10bn CNY (US$1.6bn) Jingbeiyungu cloud and smart industries base project was signed in March, 2014, and is expected to accommodate 500,000 servers. There is also an 800m CNY (US$129m) national education cloud data center xoming to Zhangbei County, as well as plans for multinational cloud data centers.
For more China data center news, please visit http://dcd-group.cn/.