French telco Altice is reportedly looking to sell its flagship data center in Portugal.
Bloomberg reports Altice Portugal is exploring a possible divestment of its Covilhã data center operation, which could fetch roughly €200 million ($216.6m).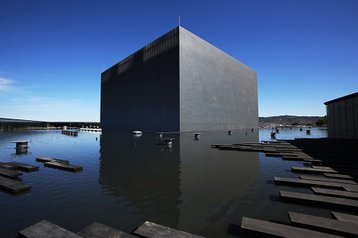 Originally constructed by Portugal Telecom, the 75,500 sqm (813,000 sq ft) Covilhã facility offers 12,000 sqm (129,000 sq ft) of colocation space across 24 data halls; capacity enough for more than 50,000 servers. Opened in 2013 and expanded in 2018, it is certified Tier III by Uptime.
A moat surrounds the data center, which is shaped like a cube, to give the illusion it is floating on the water and helps create a cooler microclimate. The moat is fed by a rainwater collection system, while the site include an on-site photovoltaic solar power generation and a garden with more than 600 trees.
The publication also reaffirms Altice is looking to sell a portfolio of French data centers in a deal that could be valued at about €1 billion ($1.1 billion). Altice may seek initial expressions of interest early next year for the assets.
Reports surfaced in November that the French telco was looking to offload up to 92 data centers in France, reportedly comprising a 'handful' of larger sites and 'dozens' of smaller facilities.
Altice owner Patrick Drahi was reportedly gauging potential interest in his Portuguese unit last year, though a deal didn't materialize.
Portugal Telecom was acquired by Altice in 2014 from Oi for around €5.79 billion. Today Altice Portugal operates five data centers in the country totaling 17,000 sqm (183,000 sq ft), while Altice's French subsidiary SFR operates 26 totaling 93,000 sqm (1 million sq ft).
Altice USA Inc. said this month it decided not to sell its Suddenlink business, after earlier exploring a deal that could have valued the cable and Internet service provider at about $20 billion.
Telcos selling off data center assets has been a common trend globally over the last decade, with Altice previously selling its Swiss data center businesses Green.ch and Green Datacenter to InfraVia Capital Partners in 2017.
The November reports suggested Altice has tapped investment bank Perella Weinberg to seek a buyer for the French facilities. Altice has previously worked with Perella Weinberg to sell its Cabovisao and Onitelecom units in Portugal as well as acquire PT Portugal.