At Satellite 2023, Amazon's Dave Limp provided early details on Project Kuiper, the company's $10 billion satellite Internet project.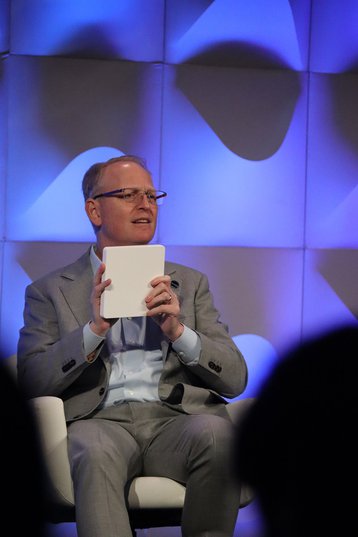 Amazon SVP of devices and services Limp revealed three different terminals for connecting to the planned 3,236+ satellite constellation. The first prototype satellites are planned for this May, with launches beginning in 2024 for a beta rollout.
Kuiper will target consumers, enterprises, and governments, and could work with telecoms and private Edge companies on 5G backhaul.
Key to the project is a custom-made ASIC chip known as 'Prometheus,' which is used in the terminals, satellites, and base station infrastructure. "This is close to magic," Limp said. "We take dozens of these and we sprinkle them on like pixie dust across our network.
"To give you a sense of the architecture of our satellites, one terabytes' worth of data can be moved directly through the Prometheus... And it costs one-tenth of what we would have got off of the shelf, and much better performance."
The Internet service will be accessible through three solid-state beamforming antenna terminals. Limp first unveiled an under $400 terminal for the average customers capable of 400 megabits per second, and a larger, as yet unpriced, one for enterprises capable of one gigabit per second. "This at $400 is a breakthrough, Limp claimed. "It's probably two to two and a half times less than any customer premise equipment that we've seen." Starlink terminals cost from $599 to $2,500.
He then pulled out a small terminal. "This antenna is about seven inches square and is less expensive - we're not gonna talk about the price quite yet - but it is dramatically lower. This is a 100 megabit per second kind of performance level. And we think that takes the opportunity to from tens of millions of customers to hundreds of millions of customers over time. As we increase the size of the consultation, it gets even more bandwidth."
The company did not disclose monthly service costs.
With SpaceX's Starlink and OneWeb years ahead in building large constellations of Internet-providing Low Earth Orbit (LEO) satellites, Limp said that the chip and the low-cost terminals were a key differentiator.
He also pointed to Amazon's customer support experience, and its networking know-how. "We are building the network that supports a lot of the Internet that we love to get through Amazon Web Services. We have a huge amount of fiber we want to keep track of for the Internet, and we were bringing that expertise to bear."
After years of secrecy, Limp was keen to note that Kuiper was "open for business," and looking to talk to enterprises and satellite companies about potential partnerships.
The company last year announced the biggest corporate rocket deal in the industry's history, booking up to 92 launches from three different non-SpaceX launch companies to deploy its satellites.