Amazon has signed a number of Power Purchase Agreements (PPAs) with energy company Iberdrola.
Iberdrola announced last week that it and Amazon.com Inc. have signed PPAs for new wind and solar capacity in Europe, the US, and Asia-Pacific.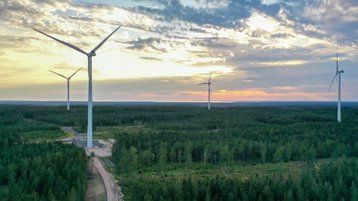 The companies didn't disclose the full details, but in Europe two of Iberdrola's offshore windfarms in Germany (Baltic Eagle and Windanker) will provide Amazon with 1.1 terawatt-hours (TWh) annually.
Both Baltic Eagle and Windanker are located in the Baltic Sea; the former is north of Rügen Island and will have a total capacity of 476MW when completed in 2024; Windanker will have 300MW of capacity and will be completed in 2026.
In the same announcement, Iberdrola announced it has selected Amazon Web Services (AWS) as its preferred cloud provider and will be located primarily in AWS' new Spanish cloud region.
The companies are collaborating on 'multiple sustainability-focused projects,' including an 'Advanced Smart Assistant application' to connect and manage devices like electric vehicle (EV) chargers and solar panels. The service uses AWS's serverless Lambda service and machine learning trainer SageMaker.
"The challenge of electrifying our energy system to increase our autonomy and reduce emissions requires partnerships between leaders like Iberdrola and Amazon," said Aitor Moso, director of Iberdrola's retail business. "The agreement today, combining sun, wind, and cloud, will enable new renewable generation capacity around the world and accelerate the digital revolution in the energy sector."
Matt Garman, SVP of sales, marketing, and global services at AWS, added: "Iberdrola and AWS believe that innovation is key to achieving our sustainability goals and accelerating the world's energy transition. AWS provides the reliability, scale, and cost-efficient IT infrastructure that will allow Iberdrola to optimize renewable energy production, modernize the power grid to integrate renewable energy sources, and enhance visibility across its operations."
Iberdrola has previously signed PPAs in the US with Amazon for a project in North Carolina, and with Meta in Texas through the energy firm's Avangrid subsidiary.