Amazon is being sued by a pension fund shareholder over its choice of launch partner for its upcoming Kuiper satellite constellation.
The company – which will be using rockets from founder Jeff Bezos' other company Blue Origin among others – has been accused of breaching financial responsibility by not using SpaceX rockets.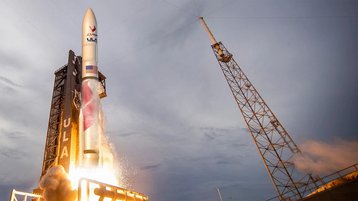 The lawsuit, first reported by law.com last week, was filed by Cleveland Bakers and Teamsters Pension Fund (Cleveland B&T), a pension fund for a Cleveland union, and represented by Grant & Eisenhofer.
However, the suit suggests Amazon's board awarded billion-dollar contracts to Blue Origin, another Bezos-owned company, without adequately vetting the decision or considering rival SpaceX, and claims the Audit Committee authorized using Blue Origin's services after "only a few minutes" of discussion.
"Amazon's directors and officers consciously and intentionally breached their most basic fiduciary responsibilities by approving a series of related-party contracts... to a company founded and owned by Amazon's founder and Executive Chair, Bezos, following no effort to properly discharge their fiduciary duties," the filing alleges.
Plans for the company's Project Kuiper constellation were first revealed in 2019. The company initially aims to launch more than 3,000 satellites into Low Earth Orbit (LEO) over the next few years.
The lawsuit suggests the decision to opt for Blue Origin was made during "two cursory meetings" without having conducted any meaningful analysis or scrutiny of the contracts and made no effort to protect negotiations from Bezos' potential conflicts of interest.
In a 2020 filing to the FCC, Amazon said it was in discussions with Blue Origin as well as three other launch companies, but Elon Musk's SpaceX was not among them.
"Inexplicably, the most famous, reliable, and obvious launch provider in the world—SpaceX—was not among the four companies presented to the Audit Committee," the plaintiffs said. "In the face of SpaceX's proven reliability and cost advantages, Bezos-led Amazon's decision to not even consider SpaceX as a launch provider illustrates the glaring conflict of interest Bezos' affiliation with both Amazon and Blue Origin."
Last year Amazon announced Blue Origin, Arianespace, and United Launch Alliance would launch 83 rockets over the coming years carrying Kuiper satellites.
The suit notes SpaceX is cheaper than Blue Origin with a history of reliable launches, while Blue Origin's machines are yet to be proven.
The plaintiffs note the value of the contracts for the satellite launches represented the second-largest capital expenditure in Amazon's history, second only to Amazon's acquisition of WholeFoods for $13.7 billion in 2017.
"SpaceX was not even mentioned as a possible launch provider: an omission made all the more troubling by Blue Origin's long-standing struggles to get its rocket to actually work."
An Amazon spokesperson told TechCrunch in a statement: "The claims in this lawsuit are completely without merit, and we look forward to showing that through the legal process."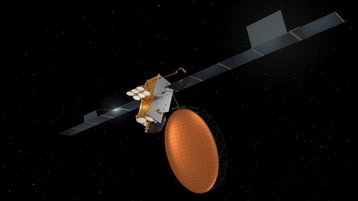 SpaceX challenges Via-Inmarsat merger, again
Meanwhile, SpaceX is challenging regulators to reopen and reverse the merger between Viasat and Inmarsat.
The Telegraph reports SpaceX has written to the Federal Communications Commission (FCC) in the US, requesting it "expeditiously review and rescind" the decision to OK Viasat's now-closed merger with Inmarsat.
SpaceX said the acquisition was "contrary to the public interest" because of Viasat's "blatant disregard" for regulations. It said the regulator had "improperly" failed to consider its claims the first time.
A Viasat spokesperson told the publication: "These are old arguments that have been tried and failed before - the FCC expressly rejected them in clearing the acquisition. And they will certainly fail again. Our focus is on integrating Inmarsat's assets and capabilities into the Viasat family to offer the innovative new services our customers want."
Viasat's $7.3 billion merger with British satellite operator Inmarsat was first announced in November 2021. SpaceX tried to block the multibillion-pound takeover of Inmarsat, but regulators cleared the deal in June 2023 after close scrutiny in the UK, EU, and US.
The combined company will have a fleet of 19 satellites in service with an additional 10 spacecraft under construction and planned for launch within the next three years operating across the Ka-, L-, and S-bands.
Viasat has suffered two critical issues with new satellites in recent weeks. The company saw its new ViaSat-3 satellite suffer an "unexpected event" during reflector deployment in July, before Inmarsat's new I6 F2 satellite suffered a power anomaly in August.
The insurance payout for both machines could be in the hundreds of millions of dollars if both are declared total failures.