Amazon is to demolish a number of office buildings acquired in Sterling, Virginia, last year and replace them with four data centers.
First reported by BizJournal, Amazon Data Services has filed plans with Loudoun County to demolish and replace nine office buildings across three sites in Sterling with four data centers spanning more than 900,000 square feet (83,600 sqm) between them.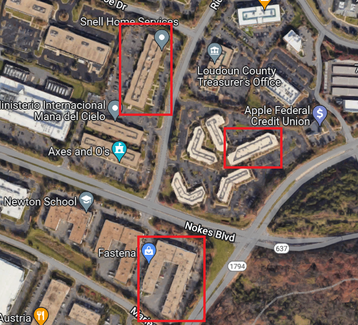 A trio of site plans would see Amazon knock down the three Loudoun Commerce Center buildings at 45965, 45969, and 45975 Nokes Blvd.; the three buildings at 46000, 46010, and 46020 Manekin Plaza; and the three buildings at 21660, 21670, and 21680 Ridgetop Circle.
The 170,000 sq ft (15,800 sqm) Nokes sites would be replaced with a single two-story data center totaling 311,670 sq ft (28,950 sqm)
The 222,000 sq ft (20,600 sqm) Manekin Plaza site would see a three-story, 313,000 sq ft (29,075 sqm) facility developed.
The 129,500 sq ft (11,950 sqm) Ridgetop Circle buildings, would be replaced with two data centers: one 254,140 sq ft (23,610 sqm) and a smaller 60,000 sq ft (5,575 sqm) facility.
The three sites are all within walking distance of one another and were all bought last year. Amazon acquired the Nokes buildings in July 2022 from commercial real estate firm Clarke-Hook Corp for $30.8 million. The Manekin Plaza and Ridgetop Circle sites were acquired in February last year for $20 million and $26 million respectively.
This isn't the first time AWS has looked to acquire and demolish office complexes in Virginia. In 2021, AWS filed plans to demolish a pair of office buildings on Loisdale Road that it had acquired that year and replace them with a data center in Springfield, Fairfax County. BJ notes the demolition work on this project has begun.
Once the buildings at 7951 and 7961 Loisdale Road are cleared, the 17.5-acre site will see a 120,000 sq ft (11,150 sqm), two-story data center built.
Amazon has acquired the twin 111,000-square-foot office buildings for $28 million from Loisdale 24 LLC, an affiliate of Philadelphia's Rubenstein Partners. The two buildings were constructed in 2013 but never occupied.
An Amazon spokesperson reached out to tell DCD: "AWS data centers bring job creation, investment, and educational programs that are benefitting communities across the United States. Since 2006, AWS has invested more than $35 billion in Virginia, has supported thousands of highly skilled jobs, and helped grow the GDP of the Commonwealth by billions of dollars in that time. We are proud of the ways we benefit our communities and look forward to helping the continued growth in Sterling."