Amazon has purchased 250,000 metric tons of carbon removal over 10 years and invested in another direct air capture (DAC) business.
The removal credits were bought from 1PointFive, which is currently building its first DAC plant in Ector County, Texas. That facility is designed to capture up to 500,000 tons of CO2 annually.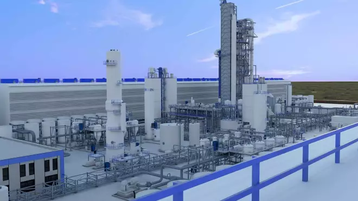 A subsidiary of fossil fuel company Occidental Petroleum, 1PointFive plans to sequester carbon deep underground in saline formations. However, it also plans to use carbon for the production of hydrocarbons to enable 'lower-carbon' fuels, and in products like chemicals and building materials - which would mean carbon is not added to the atmosphere, but it is equally not sequestered. It is not clear if Amazon is paying for it to be fully sequestered.
"Amazon's industry-leading purchase and long-term contract represent a significant commitment to direct air capture as a vital carbon removal solution," said Michael Avery, president and general manager of 1PointFive.
"The addition of 1PointFive's high-integrity, quantifiable carbon removal credits support Amazon's path to achieve net-zero and shows the growing role that DAC technology will play in decarbonization pathways. We are excited to collaborate with Amazon to help them achieve their sustainability goals."
Alongside the carbon credits purchase, 1PointFive will also work with Amazon Web Services (AWS) to analyze real-time performance data and optimize operations.
Amazon, through its Climate Pledge Fund, has separately invested in CarbonCapture, another DAC company.
"We're extremely excited to be backed by a first-class venture investor like Amazon's Climate Pledge Fund," Adrian Corless, CarbonCapture's CEO and CTO, said.
"Further, we're looking forward to leveraging our relationship with Amazon to both democratize access and reduce the long-run cost of producing carbon removal credits."
CarbonCapture is developing a modular open system architecture that allows new sorbents to be swapped in. Maximizing sorbent performance is what's needed to drive down the cost of DAC over time. CarbonCapture is developing a five megaton DAC and storage project in Wyoming.
The company will be making up to 100,000 tons of carbon removal credits available to the company, which Amazon plans to make available to businesses within the company and among its suppliers, selling partners, and customers.
Amazon plans to be a net zero business by 2040, but is currently a major emitter. The company's carbon footprint for 2022 was 71.27 million metric tons of carbon dioxide equivalent, including Scope 3 emissions.
According to the Intergovernmental Panel on Climate Change (IPCC), the world must remove roughly one trillion tons of carbon dioxide from the atmosphere over the course of this century to keep global warming below the 1.5 degrees Celsius limit - and radically reduce emissions at the same time.
More in The Energy & Sustainability Channel