Revenues at chip designer AMD fell year-over-year as client CPUs saw a dramatic fall in sales.
For its data center division, sales flatlined amid an enterprise slowdown.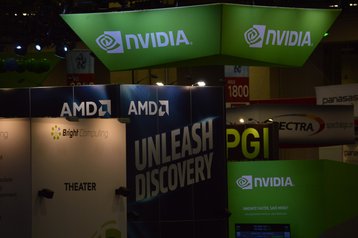 Overall, revenue was down 9.2 percent year-over-year to $5.4 billion. Client CPUs - that is consumer PCs - declined 65 percent in revenue to $739 million. In an earnings call, CEO Lisa Su said that OEMs and channel partners were focused on reducing their chip inventories, but said that she expects sales to "grow in the second quarter and in the seasonally stronger second half of the year."
Sales remained flat for AMD's data center business at $1.3bn in revenue, "with higher cloud sales offset by lower enterprise sales," Su said. With enterprise sales, the company was again held back by "elevated inventory levels" at OEMs, as well as "near-time macroeconomic uncertainty."
Su pointed to several large customer wins and new products that she believes will boost the division's sales later this year.
"We're on track to launch MI300 later this year to support the El Capitan exascale supercomputing at Lawrence Livermore National Laboratory and large cloud AI customers," she said.
MI300 deployments are expected to ramp up in the fourth quarter with "supercomputing wins" and "early cloud AI wins."
She added: "We are on track to launch Bergamot, our first cloud-native server CPU, and Genoa-X, our fourth-gen Epyc processor with chiplets for leadership and technical computing workloads, later this quarter."
In particular, Su pointed to AI workloads as an opportunity for significant growth: "We are in the very early stages of the AI computing era, and the rate of adoption and growth is faster than any other technology in recent history.
"And as the recent interest in generative AI highlights, bringing the benefits of large-language models and other AI capabilities to cloud, Edge and endpoints requires significant increases in computer performance. AMD is very well-positioned to capitalize on this increased demand for compute."