The Nordic property owner and fund manager Areim has closed its Nordic data center fund and aims to use Sweden's EcoDataCenter as its expansion vehicle.
The company this week announced it had completed the final close of the Areim DC Fund, reaching its target with €446 million ($482.7m) in committed capital from 'leading institutional investors.'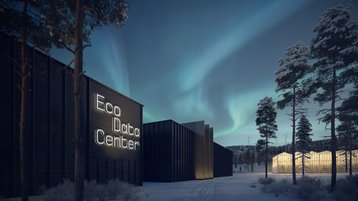 Areim DC Fund is focused on 'expanding Areim's data center platform' through the company's ownership in EcoDataCenter.
"The capital will enable us to execute our strategy of delivering more sustainable data center services to clients and to become a leading data center company in the Nordics," said Dan Andersson, CEO of EcoDataCenter.
Areim took a majority stake in EcoDataCenter in 2018 and the ownership has now been transferred to Areim DC Fund, which will support the future growth of the company.
"We are proud and happy for the trust we have received from the investors in our dedicated data center fund. We see an increased interest in the data center sector in the Nordics, supported by the strong digitalization trend but also by the attractive characteristics of the Nordic market. With our newly established fund, we have the opportunity to support the green transition within the industry, through EcoDataCenter, to meet society's needs today and in the future," said Therese Norling, fund manager at Areim.
Evercore acted as financial adviser and exclusive global placement agent, and Andulf Advokat provided legal counsel to Areim DC Fund.
Founded in 2003, Airem owns real estate across the Nordic region within the light industrial, residential, office, retail, and data center sectors. The firm invests in underdeveloped real estate and operates five other funds – Areim Fund I-V, totaling investments of around €2.5 billion.
EcoDataCenter was formed as a joint venture between local energy company Falu Energi & Vatten and data center operator EcoDC AB, and announced its first project in 2015. Nordic real estate developer Areim took a majority stake in the firm via Areim Fund III for around SEK 200 million ($22m) in 2018 and merged with Swedish operator Fortlax in 2019.
The company operates five data centers across three sites in Falun, Piteå, and Stockholm.
Earlier this year EcoDataCenter announced plans for a new 150MW campus, known as EcoDataCenter 2, in Östersund, Sweden. The campus will be constructed in phases, with the first 20MW completed in 2026.