Telecommunications company Arelion has this week announced the launch of a new fiber route from Denver, Colorado, to the San Francisco Bay Area, California.
The route will also pass through Salt Lake City, Utah, and Reno, Nevada, with the route serving the demand for high-capacity bandwidth services and diverse, low-latency connectivity options to support the hyperscale data center markets.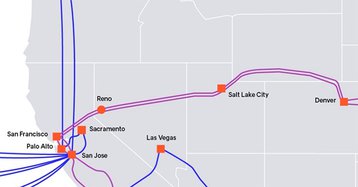 It's the company's fourth cross-country east to west coast US route, it noted in a statement, with the route expected to go live late in the second quarter.
Arelion said the route leverages the latest optical line systems and can provide support to multi-vendor transponders and coherent pluggable components to deliver multi-terabit scale capacity, enabling 10G, 100G, and 400G wavelengths deliveries.
"This network investment in Denver, Salt Lake City, Reno, and the San Francisco Bay Area is in direct response to our customers' growing technology demands," said Wes Cantrall, head of sales in North America, Arelion.
"We bring additional choices for diversity and high capacity to these regions, enabling us to meet companies' terabit-scale needs in these evolving markets. Our ongoing commitment to connect growing Edge markets across the country is a testament to our dedication to delivering best-in-class services that enable tech business growth in previously underserved regions."
For Arelion, its new Point-of-Presence (PoP) at Flexential's Centennial campus means that the company is expanding the carrier's Denver metro reach further south, where it will provide low-latency connectivity to Denver's scale data centers.
Arelion says that this will provide enhanced metro flexibility, while helping to avoid network congestion.
This latest route connects to Flexential - Centennial and CoreSite DE1 in Denver, plus Flexential in Aurora. It also connects to Flexential sites in Fair Park and Salt Lake City, while additional Salt Lake City sites include EdgeConneX – SLC01 and DataBank – SLC1 and SLC2 in Bluffdale.
In Reno it will connect to Switch - Citadel, while connectivity is provided to key Bay Area cities, including San Francisco (Digital Realty – SFO10), San Jose (Equinix – SV1), Palo Alto (Equinix – SV8), Santa Clara (CoreSite – SV4), and other colocation sites in the Bay Area.
Last year, Arelion deployed a backbone fiber route from Norway to continental Europe.
The 750km subterranean fiber route runs from Oslo, Norway to Esbjerg, Denmark, and includes two new points of presence locations, in Bulk Fiber Networks' OS-IX data center in Oslo and N01 data center in Kristiansand.
Founded in 1993, Arelion was formerly named Telia Carrier and TeliaSonera International Carrier.