The new Polaris supercomputer has gone live at the Argonne National Laboratory in Illinois.
The newest supercomputer at the US Department of Energy's (DOE) Argonne National Laboratory, is now open to the research community; it will provide a platform for researchers to prepare codes and workloads for Argonne's upcoming Aurora exascale supercomputer.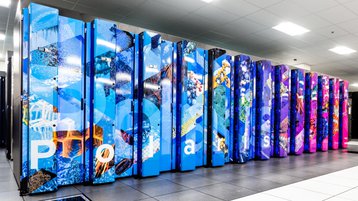 Built by Hewlett Packard Enterprise (HPE), Polaris is a 44-petaflops machine that utilizes both central processing units (CPUs) and graphics processing units (GPUs).
The system features 280 HPE Apollo Gen10 Plus systems across 40 racks. That includes a total of 560 AMD Epyc Milan CPUs and 2,240 Nvidia 40GB A100 GPUs, connected by HPE's Slingshot networking. They are currently Slingshot 10, but are scheduled to be upgraded to Slingshot 11 in the fall of 2022.
"Polaris is around four times faster than our Theta supercomputer, making it Argonne's most powerful computer to date," said ALCF Director Michael Papka. "The system brings advanced capabilities that will allow our user community to carry out simulation, data analysis, and AI tasks at a scale and speed that has not been possible with our previous systems."
Polaris will immediately begin supporting several research teams getting ready for the arrival of Aurora via DOE's Exascale Computing Project (ECP) and the ALCF's Aurora Early Science Program (ESP).
"We have a very diverse set of projects lined up to use Polaris," said Katherine Riley, ALCF Director of Science. "Some of the initial ECP and ESP research campaigns include using AI to accelerate cancer research, performing massive cosmological simulations to advance our understanding of the universe, and modeling turbulent flows to inform the design of more efficient aircraft."
Aurora was originally meant to launch in 2018 as a 180 petaflops supercomputer featuring Intel's Xeon Phi chips. But when Phi was delayed, soft-launched, and then canceled, Aurora was pushed back and re-architected with new processors, as an exascale system.
That machine was then set for 2021, but with Intel struggling to develop Sapphire Rapids CPUs and Ponte Vecchio GPUs, this too has been delayed.
The Oak Ridge National Laboratory exascale 'Frontier' system was named the world's most powerful supercomputer earlier this year. As well as Aurora, another two exaflops system is expected next year, the El Capitan supercomputer. The DoE is aiming to build systems that are 5-10 times as powerful before 2030.
China is believed to have secretly set up the world's first exascale supercomputer in 2021, soon following it up with a second system. As many as 10 exascale supercomputers are thought to be in development in the country.