Nordic data center operator atNorth has signed a Power Purchase Agreement for a new facility in Iceland.
The company has signed a five-year deal with Landsvirkjun to procure energy for its new 5MW data center in Akureyri. The companies also entered into a two-year controllable load PPA where atNorth will purchase up to 10MW. The deals could be replaced with a larger PPA in the future.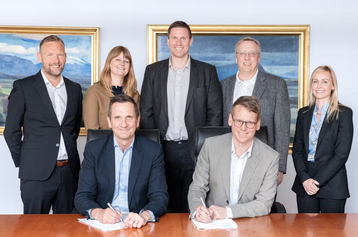 Eyjólfur Magnús Kristinsson, CEO, atNorth, said: "Our business relationship with Landsvirkjun has always been good and beneficial for both companies. Our new data center creates an opportunity in the industry in Iceland, also we expect it to have various positive effects on the economy in Akureyri. We see that demand for data center services is continually growing and our investment plans are on a scale of dozens of ISK billions annually to meet that demand."
Plans for the site were first announced in April 2022. The data center – known as ICE03 – is located in Akureyri in the north of Iceland. The first phase of construction is around 2,500 sqm (26,900 sq ft) across two buildings with an initial capacity of 12MW. At full build-out, the facility will cover over 4,000 sqm (43,000 sq ft) in five buildings and has the potential to scale up to 50MW.
AtNorth has been Landsvirkjun's customer for a number of years, with similar deals covering the operator's data centers in Hafnarfjörður and Reykjanesbær.
Tinna Traustadóttir, EVP sales, and customer service, Landsvirkjun, added: "Congratulations to atNorth on their third data center in Iceland! The location of the data center in Akureyri is very practical as energy demand in the South is already high and it is preferable to further even the load."
AtNorth is a pan-Nordic data center provider specializing in colocation and high-performance computing (HPC). The company currently has six data centers across Sweden, Iceland, and Finland, with another Finland site currently under construction. AtNorth customers include BNP Paribas and Proptivity.
Landsvirkjun is the National Power Company of Iceland, and the country's largest electricity generator. The company operates 18 power plants in Iceland – a mix of hydroelectric, geothermal, and wind plants.