After laying off around 10,000 employees at the end of last year, Amazon has cut thousands more, for a total of 18,000 jobs.
The company has begun reaching out to staff in the US, Canada, and Costa Rica about its largest-ever round of job cuts. Staff in China will learn after the Chinese New Year, while in other regions the company will have to consult with employee representatives before finalizing its layoffs.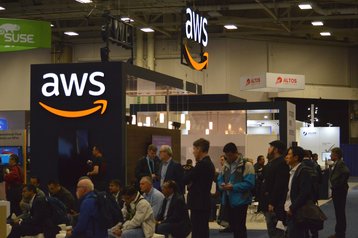 November's cuts heavily impacted Amazon's Devices and Services group, which includes Amazon's Alexa assistant and Echo speaker system. The Luna cloud gaming division was also impacted significantly.
At the time, Amazon's highly profitable cloud division Amazon Web Services (AWS) was spared the worst of the cuts. AWS contractors were let go, but full-time staff appeared mostly unaffected.
This round of layoffs - while primarily targeted at retail, human resources, and comic book service Comixology - has seen some full-time AWS employees laid off.
A search of social media shows a number of AWS employees announcing that they were being let go.
The cuts appear to primarily impact members of AWS' recruiting team - a move that follows a November hiring freeze, and an expected hiring slowdown in 2023.
But employees from AWS' Just Walk Out technology team, AWS' software development team, and the Analytics Customer Experience division also reported job juts.
One former employee noted that he was on an H-1B visa and only had 60 days to find another role.
"Amazon has weathered uncertain and difficult economies in the past, and we will continue to do so," CEO Andy Jassy said in early January.
"Companies that last a long time go through different phases. They're not in heavy people expansion mode every year."
AWS could be set to reach $100 billion in cloud revenue in 2023 if the service grows as fast as previous years, but inflation, energy costs, and a troubled global economy risk slowing its growth.
In its latest earnings call, Amazon said that cloud customers were "focused on controlling costs," while data center energy costs had more than doubled over the last couple of years.
Meta, Oracle, Intel, Microsoft, Salesforce, GlobalFoundries, and Twitter are all planning - or have made - large job cuts.