AWS plans to launch hundreds of Local Zones in the future, massively expanding its Edge cloud network.
Local Zones act as Edge locations to host applications that require low latency to end-users or on-premises installations. Each zone offers services such as compute, storage and database, close to population centers for latency-sensitive applications, usually where Amazon doesn't have an existing data center footprint.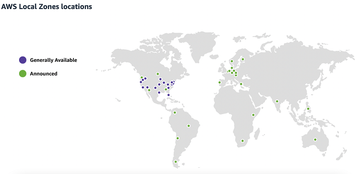 The company currently operates 17 Local Zones in the US and has confirmed plans for 32 more internationally; none of the international locations have launched yet.
Speaking at Informa's Edge Event in London this week, Hisham Elshaer, global senior consultant & industry specialist for telecom professional services at AWS, said the company is planning to massively expand its Edge infrastructure beyond those 49 regions soon.
"We are actively building Local Zones to penetrate and distribute cloud capabilities even more," said Elshaer. "They are in the tens now and will be in the hundreds very soon."
In some instances, "it doesn't make financial sense to move data to the cloud and back," he added. "In other cases, there are hyper-reliability and throughput needs" that justify the use of local facilities.
AWS Local Zones were first introduced in 2019 with a single Zone in Los Angeles, California. The company now has 17 Local Zones in 16 metros in the US, and late last year announced plans to expand internationally into 32 cities across 26 countries.
Despite multiple requests from DCD, AWS hasn't detailed what facilities the Local Zones sit within or what compute infrastructure they use.
AWS also has 29 Wavelength Zones – which embeds AWS compute and storage services at the Edge of communications service providers' 5G networks – across seven countries. The company has partnered with the likes of Verizon, Vodafone, KDDI, SK Telecom, and Bell Canada.
Amazon also has its EdgeFront content delivery network (CDN), which spans more than 310 Points of Presence in more than 90 cities across 47 countries.