A new cable landing station (CLS) and data center has launched in Barcelona, Spain, and seen the 2Africa cable land in the facility.
"Barcelona Cable Landing Station, the new digital port of the Mediterranean, is ready for service!" AFR-IX Telecom said on LinkedIn last week.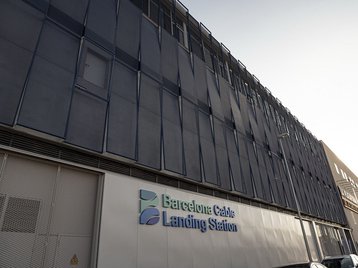 The two-story CLS, located in Sant Adrià de Besòs in the east of the city, offers 380 sqm (4,100 sq ft) of colocation space and two meet-me rooms. The building is constructed to Tier IV standards and features on-site solar panels.
This week the Meta-led 2Africa cable landed at the new CLS. ASN's cable ship Ile the Seyn was laying this portion of the cable.
"The first international submarine cable - 2Africa - landed in Barcelona Cable Landing Station this morning," the company said yesterday.
At 45,000 km and circling the African continent, the 2Africa subsea cable is the longest fiber optic cable in the world and will connect three continents: Africa, Asia, and Europe, and 33 countries across 46 landing points. It is due to go live in 2023/2024.
Irene Cano, director of Meta for Spain and Portugal, said: "As part of the 2Africa consortium, we announce the arrival of the 2Africa submarine cable in Barcelona. Submarine cables lay the foundation for a global Internet, connecting people and continents, and will likely play a significant role in Europe's current development. 2Africa will be the longest submarine cable ever deployed, serving those communities that rely on the Internet for services such as education, healthcare and business. "
And Norman Albi, CEO of AFR-IX telecom, added: "We are delighted to start operating in our station with 2Africa, one of the most important submarine cable systems. The choice of this location is an example of Barcelona's competitive advantages as a key landing point in the Mediterranean."
First announced in November 2020, Barcelona CLS is part of AFR-IX telecom, also based in Barcelona. The new CLS is also set to be the landing point of the upcoming Medusa Submarine Cable System.
Announced in January 2022, AFR-IX-owned Medusa will connect Lisbon and Sines, Portugal to Port Said, Egypt with additional landings in Barcelona, Torreguadiaro, Zahara and Alacant in Spain; Tétouan and Nador in Morocco; Algiers, Bizerte in Tunisia, Algiers and Collo in Algeria; Marseille in France; Mazara del Vallo in Italy; Yeroskipou in Cyprus; and Tympaki in Greece. The 8700km system will consist of 24-fiber pairs and offer 480Tbps (20Tbs per fibre pair); AFR-IX has said it the project will require €326 million ($374m) and will be partially financed by the European Investment Bank for a contribution of €163 million ($186.5m).
More in Construction & Site Selection