A mixed-used property partly occupied by a Digital Realty data center has been sold in Stockholm, Sweden.
Pictet Alternative Advisors and Brunswick Real Estate this week announced they had divested Vanda 3, a 63,000 sqm (678,100 sq ft) mixed-use property in the Akalla area of Stockholm.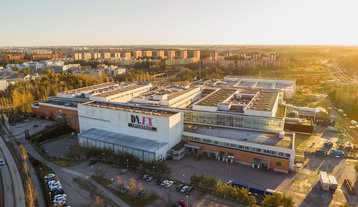 The site was sold to real estate investment manager Barings, which acquired the asset on behalf of a pan-European core property strategy. Brunswick will continue to manage the property on behalf of Barings.
"We are very pleased with the partnership with Pictet and our achievements during a fairly short period of time, not least on the energy side where the environmental footprint of the property will be reduced significantly. There is still a lot of value to be created and we now look forward to continue developing the property together with Barings," said David Hävermark, Partner at Brunswick.
Digital Realty occupies part of Vanda 3 (also known as Vandagatan 3) as its STO6 data center. Opened in 2020, STO6 offers 3,300 sqm (35,520 sq ft) of IT space across an 8,300 sqm (89,340 sq ft) footprint and offers 4.95MW of utility power capacity.
Pictet and Brunswick acquired the site in 2020 for an undisclosed amount. The site includes data center, printing, warehouse, and office premises.
Pictet and Brunswick said that since the acquisition the companies have increased the net operating income of the property by almost 20 percent and initiated two major sustainability projects which will reduce energy consumption by approximately 60 percent.
Partha Sarathy, head of asset management at Pictet, said: "We are pleased with the sale of this outstanding property to Barings. Following a successful repositioning and a secured income profile with excellent ESG credentials, this unique asset offers great potential for a long-term capital investor."
Barings said it plans to further improve on Vanda 3's mix of uses and its ESG credentials.
Andreas Norberg, managing director and Head of Nordics Real Estate at Barings, added: "Vanda 3 is well positioned as an income-producing asset, boasting significant potential for both last-mile logistics and as a data center. With excellent transport links, a strong and diverse mix of tenants and uses, and good sustainability credentials, Vanda 3 is a strong addition to our Nordics portfolio as part of our European core strategy. Our ambition is to further strengthen its dominant market position and we are happy that we have been able to retain Brunswick as our manager for the asset."
Digital Realty operates five other data centers in Stockholm, all located at its campus on Esbogaten 11 next door to the Vanda 3 site.