More than 20 US universities and major tech companies have backed legislation to create a national AI research cloud platform.
AWS, Google, IBM, and Microsoft were among those supporting the bill, which was introduced in the Senate and the House in June by a bipartisan group of politicians.
Cloud.gov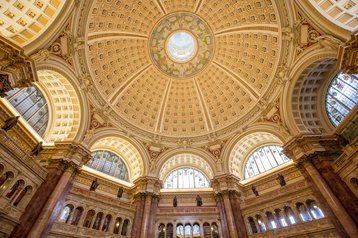 The National AI Research Resource Task Force Act aims to create a task force of government science leaders, academics, and industry representatives to outline a plan to create and fund a national research cloud.
The platform would likely run on commercial cloud systems, marking a shift from federal research having traditionally taken place in government labs and supercomputers. Funding levels, how cloud providers would be paid, and who would own the data would be decided by the task force and Congress.
"AI is shaping our lives in so many ways, but the true potential of it to improve society is still being discovered by researchers," Representative Anna G. Eshoo said.
"I'm proud to introduce legislation that reimagines how AI research will be conducted by pooling data, compute power, and educational resources for researchers around our country. This legislation ensures that our country will retain our global lead in AI."
The initiative was highlighted as a way to compete with China, which is pouring hundreds of billions into becoming a world leader in AI by 2030.
"We cannot take America's AI leadership for granted," Senator Rob Portman said. "With China focused on toppling the United States' leadership in AI, we need to redouble our efforts with a sustained commitment to the best and brightest by developing a national research cloud to ensure our technical researchers get the tools they need to succeed. This legislation takes the first steps towards a national research cloud. By democratizing access to computing power we ensure that any American with computer science talent can pursue their good ideas."
In a statement this week, universities including Carnegie Mellon, Stanford, and Johns Hopkins, joined up with OpenAI, Mozilla, Nvidia, and other companies to support the bill.
"We call on Congress to act on this legislation as soon as possible," they said.
National Security Commission on Artificial Intelligence Chair, and former Google CEO, Eric Schmidt backed the bill along with co-chair and former deputy secretary of defense Bob Work. "It is an essential first step towards [the] establishment of a national resource that would accelerate and strengthen AI research across the US by removing the high-cost barrier to entry of compute and data resources," they said in a joint statement.
"If realized, this infrastructure would democratize AI R&D outside of elite universities and big technology companies and further enable the application of AI approaches across scientific fields and disciplines, unlocking breakthroughs that will drive growth in our economy and strengthen national security."
In June, the bill was referred to the Senate Subcommittee on Commerce, Science, and Transportation.