Cryptomining firm BitRiver is partnering with Gazprom Neft to power cryptomine data centers with flared gas.
The two companies signed a memorandum of understanding at the St. Petersburg International Economic Forum to develop crypto mining facilities at oil fields.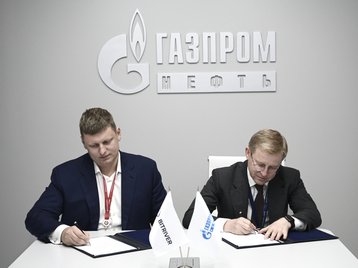 Gazprom Neft will provide energy to data centers set up by BitRiver, according to a Gazprom announcement and a statement sent to CoinDesk. These facilities will either be at new oil fields where gas transportation infrastructure has not been set up or remote sites where the transport is too expensive such as Siberia.
"Over the next two years, BitRiver intends to implement projects to create its own data centers for power-intensive computing with power scaling up to 2 [gigawatts], including [associated petroleum gas], which will additionally provide high and stable power consumption," Igor Runets, founder and CEO of BitRiver told the publication.
A number of companies are looking at using flared gas to power data center operations – though usually for cryptomining and other blockchain applications. Oil wells routinely waste natural gas, burning it off in "flares". These burn methane and release CO2, but they do it inefficiently, releasing a significant amount of methane, which is a greenhouse gas that is more potent than CO2 - albeit with a much shorter lifetime in the atmosphere.
Companies such as Crusoe Energy, Earth Wind & Power (EWP), and Validus Power claim that using the otherwise-flared gas to power data centers burns the gas more efficiently, reducing methane emissions and generating computing work from the energy.
Gazprom Neft (formerly Sibneft), is the third largest oil producer in Russia and subsidiary of state-owned energy firm Gazprom. Reports suggest Gazprom Neft has previously worked with other crypto firms on similar projects. Vekus deployed 150 mining devices at a processing facility in the Khanty-Mansiysk Autonomous Okrug.
Founded in 2017, BitRiver operates five data centers – including a 100MW in the Siberian city of Bratsk – totaling around 300MW. The company reportedly has 15 projects in the implementation phase both in Russia and abroad. In April 2022, the US Department of the Treasury's Office of Foreign Assets Control (OFAC) has imposed sanctions on BitRiver, the first time it has targeted cryptocurrency companies. BitRiver responded by announcing it was considering the option of drawing up and filing a lawsuit against the US Treasury Department.