Texas-based crypto mining company BlockQuarry is developing a high-performance computing (HPC) storage pod with Bitcoin mining and artificial intelligence (AI) applications.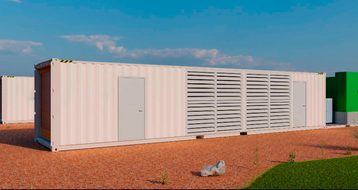 The pod will be based on a 40-foot shipping container and feature an elevated floor for utility distribution through power and network cabling and HVAC ductwork. The roof will house solar panels to supplement the built-in subsystems and reduce reliance on the grid.
The data center pod is called the NexGen Pod5 data center, and BlockQuarry said it is in talks with a patent attorney to protect its intellectual property and technology.
According to the BlockQuarry website, the NexGen Pod5 has a hash rate of 28,000 THps, houses 280 miners, and has 1MW of capacity. Exact details of the hardware used have not been shared.
"The development of this Bitcoin mining and AI computational storage pod showcases BlockQuarry's dedication to innovation and sustainability," said Alonzo Pierce, president and chair of BlockQuarry.
"We are excited to lead the way in revolutionizing the HPC industry with this groundbreaking infrastructure by embracing efficiency, security, and environmental responsibility for the future. This development opens up a whole new channel of sales for BlockQuarry, which will allow us to deliver tangible assets to clients and have sustainable revenue from manufacturing of the pod."
Containerized data centers dedicated to crypto mining are nothing new. In December 2022, Allied Energy partnered with crypto firm Enerhash to deploy the latter's containerized crypto-mining data centers at Allid's oil and gas pipelines, where they could use flared gas for power. A similar deployment was planned by Phaeton, though instead planning to deploy its containerized data centers at solar farms across Australia. These containers are similarly based on shipping containers.
BlockQuarry said it operates a 200MW project in Gaffney, South Carolina.