Botswana Fibre Networks plans to build a vendor-neutral data center at the Science and Technology Park in Gaborone.
The facility will host at least 400 racks in 1,000 square meters (10,800 sq ft) of white space, and is expected to be Tier III certified by the Uptime Institute.
Construction is predicted to take eight months, with the site set to be the largest data center in Botswana.
Hoping to lead to hyperscalers coming to the country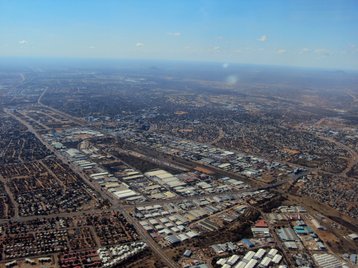 "Complemented by the robust and resilient fiber network infrastructure, which extends to almost every border point, this purpose-built data center will increase security of business applications that will be located here due to its redundant power and intelligent cooling systems," BoFiNet board chairperson Pelani Siwawa-Ndai said.
"With most services now being delivered on cloud, this facility will be a host to some of the frequently used services in our country. Furthermore, the fact that Botswana is geographically centered in the [Southern African Development Community] region presents us with an opportunity to be seen and used as the preferred country to facilitate low latency connectivity for countries such as Namibia, Zimbabwe, Zambia, Angola and the world at large."
At a groundbreaking event attended by Botswana Unplugged, Thulaganyo Segokgo, the minister of transport and communication, said that the data center "will become the strategic heart of Botswana's networks that will drive Botswana's Digital Transformation and Smart Bots initiatives, to attract and host major regional and international ICT players such as Microsoft, Google, and others."
Last month, a new report from The African Data Centres Association (ADCA) and Xalam Analytics claimed Africa needs 1,000MW and 700 facilities to meet growing demand and bring the rest of the continent onto level terms with the capacity and density of South Africa.