Brazilian municipality Mogi das Cruzes' City Hall has received a new containerized data center from local provider Modular Data Centers.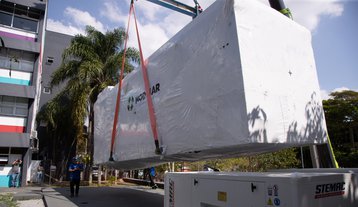 The containerized data center features fire, temperature, and humidity controls and is designed to a Tier III standard.
According to Shauy Youssef, who is responsible for the Information Technology Modernization Coordination at Mogi das Cruzes City Hall, the new data center will enable City Hall to have a hybrid cloud environment and to collect better data enabling better public services.
Youssef said: "This data center will meet the needs of the entire City Hall, providing high availability and hosting large-scale technology infrastructure solutions. This is the foundation of a smart city that will combine 5G network, Internet of Things, Edge computing, and sustainability."
The data center is currently in a testing phase. Once completed, there will be a transition period before City Hall is fully operational with the new equipment.
Mayor Caio Cunha said: "When it comes to technology and innovation, Mogi das Cruzes has stood out in recent years, and the City Hall has an important role in this advancement, expanding possibilities and encouraging development. With the work we do here in management, it would be no different, and investing in technological infrastructure is essential to bring more efficiency and agility to the services provided to the population and increasingly insert us into the concept of smart cities."
Brazilian data center manufacturer Modular Data Centers offers a variety of containerized data centers, from the smallest Nano Pod which can house two to three racks, to the HyperPod family which uses several containers. City Hall has not specified which data center it has selected.
Plans for City Hall to receive a data center were first detailed in March 2023, alongside plans to deliver another data center to the Security Center in Socorro.
At the time, municipal secretary of Planning and Strategic Management Lucas Porto, said: "We only have one data center to manage data from the entire City Hall, from Health, Education, Social Assistance, everything. Imagine all the city's data stored and computed by a single machine. This is the reality today. So, it's not enough. For City Hall to reach the 21st century, we need to install these two data centers, with data processing capacity to improve and reach 100 percent of everything we are doing for modernization."
A version of this story has been published on our Portuguese site.