Scala Data Centers has launched a new data center in São Paulo, Brazil.
SP4 has gone live at the company's Tamboré campus in the Barueri region of São Paulo. Scala told BNAmericas that the site is live in its first stage with 6MW of IT power capacity in use. In September, the second phase of SP4 is expected to start operating, adding another 6MW in IT capacity.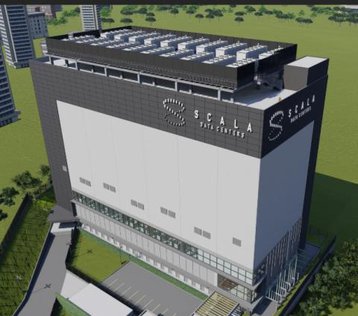 Scala broke ground on SP4 in late 2021, and was originally due to go live in April of this year. SP4's 18MW capacity is already 100 percent committed to a single, undisclosed, cloud provider. The facility spans 140,000 sq ft (13,000 sqm) across seven floors.
SP4 is located on the same campus as the 21MW SP1 and 13MW SP3. Two more facilities – SP5 and SP6 – are due to go live on the same campus in the future.
"By adding these developments to our multi-tenant SP1, we have achieved the impressive mark of 90MW fully leased in our Brazilian flagship Tamboré Campus, which makes it by far, just considering its first phase, the largest campus in Latin America and one of the biggest in the world," said Scala co-founder and CEO Marcos Vinícius B. Peigo.
Formed in 2020 by DigitalBridge out of data center assets it acquired from Brazilian IT firm UOL Diveo, Scala currently operates five data centers in the São Paulo area of Brazil including SP4.
The five-story SP5 was due to go live later this year but appears to have been pushed back to next year. The 10MW facility is also planned for a single tenant.
As well as SP4 & SP5, Scala plans to build a large 28MW SP6 facility at its Tamboré campus, as well as new campuses in Campinas and Jundiaí. Together, they will total around 300MW.
Peigo also said the Tamboré Campus has a further 130MW of additional capacity contractually reserved for the second phase of development, to a total of 380MW.
Scala is also looking at expanding in Mexico, Chile, and Colombia.