Hopes that BT Group might be forced to sell off its Openreach division – which generates most of its profits - were all but dispelled today, but Ofcom warned that the axe could still fall if certain conditions are not met. In order to remain part of BT, Openreach must live up to its name and allow rivals onto its network.
A review conducted by Ofcom, the telecoms regulator, concluded that BT's ownership of Openreach was too proprietary and involved "an incentive to make decisions in the interests of BT".
Sharon White, Ofcom's chief executive, said, "Openreach must open up its network of telegraph poles and underground tunnels to allow others to build their own, advanced fiber networks, connected directly to homes and offices. This will help create more choice, while reducing the country's reliance on Openreach. Openreach needs to change, taking its own decisions on budget, investment and strategy, in consultation with the wider industry."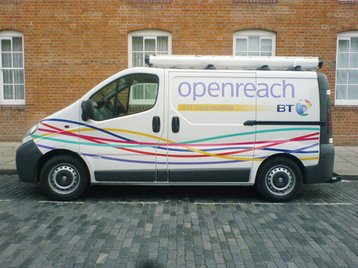 Demand for change
Competitors such as Sky and TalkTalk have put pressure on Ofcom to force these changes, which they see as essential to allow fair competition.
Dido Harding, CEO of TalkTalk Group, praised the depth of the report but added that she still feels more should be done. "Ofcom has done well in identifying many of the worst problems, including recognizing, finally, that BT's control of Openreach creates a fundamental conflict of interest which hurts customers.
"But, having accepted all this, Ofcom has produced 100 pages of consultation with little concrete action behind it. The risk is that we end up with 10 more years of debate and delays, rather than facing into the problems and delivering improvements for frustrated customers now."
To encourage change, Ofcom will prepare detailed proposals on how a breakup of BT and Openreach would be implemented. These details will be published later this year, the watchdog said. In the report, it said that Openreach might have to become a ring-fenced, "wholly-owned subsidiary" of BT Group. This would mean it would have its own board-level management. Ofcom will also be looking at the possibility of severing ties with BT Group entirely, by creating a separate legal entity with its own shareholders.
Gavin Patterson, BT chief executive, claimed that a lot of what Ofcom is asking for was already in place, and that its poles and ducts have been open to competitors since 2009. Despite this, he said, BT's rivals have shown very little interest.
Sky left it to a spokesperson to comment on the report: "Ofcom's actions today are not the end of the debate but a staging post towards delivering the network and service that Britain needs. We believe the simplest and most effective way to fix the current broken market structure is for Openreach to be completely independent. We are pleased to see that separation is still on the table."
If Openreach lives up to the demands being made of it, it could be good news for those living in rural areas of the UK where broadband speeds tend to be extremely slow and unreliable. There is also a demand for better services in the larger cities where congestion brings data transfer rates to a crawl. Despite this, the Ofcom report stated that "the UK has made good progress rolling out superfast broadband and 4G mobile" but it did express a degree of concern about the rural situation.