Chinese state-owned automobile manufacturer Changan Automobile and technology company Baidu have jointly inaugurated a data center dedicated to artificial intelligence (AI).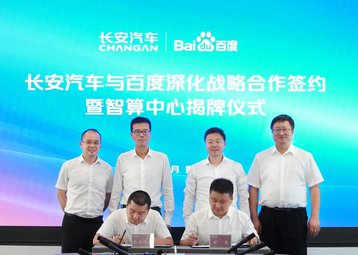 The facility is powered by Baidu's cloud offering and the Baige heterogeneous AI computing platform. The companies claim that the center has a computational capacity of 1.42 exaflops, likely on a low-precision AI benchmark.
A location for the facility has not been shared.
The Changan Artificial Intelligence Data Center will be used for research and development of intelligent connected vehicles and autonomous driving, and is hoped to speed up model train speeds by up to 125 times with a 40 percent improvement in GPU resource utilization once completed.
The data center will also be used for data storage and analysis systems, AI-powered assistants, and energy supervision systems for vehicle owners and enterprises.
In addition to the inaugurated data center, Baidu and Changan Automobile have committed to working on cloud computing, big data, and the Internet of Things fields together. The partnership will use Baidu's technologies including the Ernie AI large language model, and will be used across research and development, supply, and services.
In the future, Changan Automobile intends to develop a "new AI-driven product" based on Baidu's Ernie which will be deployed onto one of the company's mass-produced models. Further information on the product, nor the vehicle in question, has been shared.
By 2025, Changan will have invested a cumulative total of $11 billion in vehicle intelligence innovation and digital transformation.